Private Live Streaming: All Businesses Need To Know
Progression in technology has left us exposed and prone to cyber-attacks and we don't mean robots from the Transformer films…
We're talking about phishers, scammers and hi-jackers who may target anything from your personal banking account to your internal videos. If you are looking to live stream a company meeting or a product demo, you may want to avoid social media because, just in the last five years, a reported 1.3 billion social media users' details have been hacked.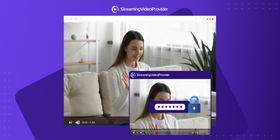 Besides, something as sensitive as a meeting agenda or a corporate strategy should not be broadcasted without the necessary precautions. Your team members and your brand certainly deserve better.
If you're looking to do private live streaming, read below to learn about the risks and the potential solutions.
Why Use Private Live Streaming?
Privacy and security are essential for a variety of work-related live streaming tasks including:
Protecting your staff training videos. Just imagine if your competitors could get their hands on your sales training videos. You probably want to stop unauthorized persons from downloading your course content.

Safeguarding your all-hands meetings. If you can stream them privately across your offices, there is a higher chance that your employees will be on the same page.

Delivering your paid online content. Whether you're streaming live workshops or live TV shows, private live streaming helps you protect your content from thieves.
Can I broadcast a private stream on YouTube or Facebook?
Yes, but it depends on what you want to do.
Private YouTube Live Stream
live video hosting
Just like private videos, you can also create YouTube private live streams and invite participants by email. This means that no one can join if their email isn't on the list but, at least, you will be restricting the audience to the people you want. The process of adding a list of viewers can prove to be time-consuming in some cases. For example, if you want to stream to your email list you'd have to export all emails from your email management software and enter them on YouTube.
That being said, here's how to make your live video private on YouTube.
Go to YouTube Studio > Videos > Live. Select the video and then go to Settings > Permissions > Invite. This is where you can enter the emails of your viewers. Note that you can't make your entire YouTube channel private. You have to go through the same procedure for each live stream or video you want to hide.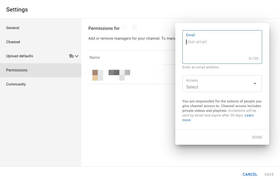 Facebook Private Stream
A private Facebook Live stream may be a better solution when you're streaming to your followers. The platform allows live streaming to the people on your friend list or the people who like your Facebook page. You can choose to show your stream to specific friends or groups of friends but, again, you have to be connected to these people.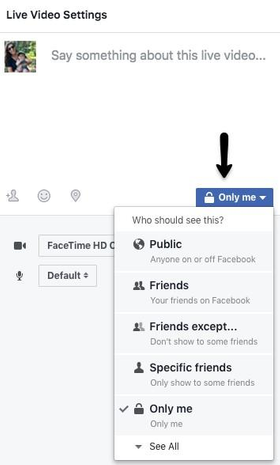 In Workplace by Facebook, you can also invite people by email to attend a live stream. Unfortunately, this feature is meant for video conferencing and is limited to 50 participants which may not be ideal for a large business.
Then, there's the copyright issue
YouTube and Facebook are an old stick in the mud when it comes to copyright protection—and rightly so. These platforms constantly monitor for copyright infringements and there's always a risk your streams will be shut down in the middle. For example, when streaming unauthorized music by accident. This is one of the reasons why free live streaming services may not be the best option.
If you need your stream to be truly private a la Area 51 for your company or paying customers, the best course of action is to find a business video platform that supports live video hosting and has robust security settings.
How To Choose A Private Live Streaming Platform?
Here's what features to look for.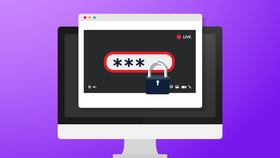 In-transit encryption
In-transit encryption secures your stream like Fort Knox and protects it from sniffing attacks. Different streaming services offer different options here. For example, StreamingVideoProvider uses 128-bit AES HLS encryption.
Geo and IP restrictions
These features prevent access to your stream based on the location and IP address of your viewers. For example, you can limit viewership to people located at your Cincinnati office who are also on your company's network.
Password protection
Some platforms allow you to generate individual or group passwords for your customers/partners/coworkers to add another layer of protection. Password-protected streaming is a sure-fire way to keep the trade secrets of your live stream recordings and videos.
Two-factor authentication
This feature prevents viewers from sharing an account. When a viewer logs in, he or she gets an email with an authentication link. If the link is clicked, the login procedure is completed but all other devices that this viewer is logged on will be automatically logged out.
So, essentially, one viewer can watch the stream on one device. It can be any device they want and they can change devices as much as they like but they can't use two devices at the same time. This feature can be very useful when you're trying to create a private TV online stream.
If you're also planning to protect on-demand video content, you can read our blog on private video sharing.
Summary Table of Features
You can use this table as a reference to assess providers and find the best private streaming service.
| | |
| --- | --- |
| In-transit encryption | Protects your video from sniffing tools (someone intercepting your stream while it's traveling on the web) |
| Geo and IP restrictions | Enables you to restrict access to a specific location or computer network |
| Password protection | Requires a password to access your video |
| Two-factor authentication | Prevents viewers from sharing an account |
How can you live stream privately?
Fortunately, it's as easy as one, two, stream… Here's how it works with StreamingVideoProvider.
Create a free StreamingVideoProvider account
Click Add Media and create a new live stream
Select your live stream and click on Live Studio to connect your equipment
Select your live stream and switch to the Access Control tab. Set a password or configure the IP, Domain and Geo restrictions you want to use. In-transit encryption is enabled by default.
If you want more advanced settings like setting up a password expiry date, go to Settings > Access Control > Password Protection. You can create a password package here that can be linked to as many videos as you wish.
Go back to your video, select it and click Live Studio. To go live, click Start Broadcast.
For a pay per view event, you'll also need to add a payment option. See the video below for instructions on how to do this.
So, that's it! You are now ready to stream anything from a online TV channel to a live event online while keeping your privacy and security as high as possible.
Private live streaming FAQs
Can you create a Twitch private stream?
No. You can only block specific users from interacting with you.
Can you live stream privately on Facebook?
Yes, but you can only do a private Facebook live stream to your friend list or a closed group.
How do you set up a Livestream private stream?
With the Basic package, you can use password protection and player embed restrictions. With the Enterprise package, you can use Single Sign-On (SSO), Geo and IP restrictions.
Can you private live stream on Vimeo PRO?
No, you will need the Vimeo Enterprise plan.
Conclusion
When it comes to private live streaming, the main issues are keeping the pirates at bay and, possibly, monetizing your live streams.
Social media has many pitfalls and guidelines, so tread carefully when broadcasting there. If you're looking for copyright protection, customer payment options, and securing your streaming media, you may want to use a dedicated service.
When shopping around the best private streaming solutions, it's best to give several services a try. Speaking of this, you can create a free StreamingVideoProvider account right now and test us. Maybe we're a good fit for your private live stream, who knows?
References & Further Reading


You Can Start Streaming Privately In Just 2 Minutes
Go Live Now