Streaming Encoders: Hardware Or Software? Which Is Better?
Is anyone surprised that video streaming continues to rise?
According to research, 55% of enterprises are using live video streaming. And you won't need statistics to know that the recent events have made it even more popular. What's even better is that you don't need the finest live streaming equipment to produce a professional video — be it for the boardroom or for your Facebook page.

The countless options of video streaming hardware, as well as software, can be the stuff of nightmares! We'll help shed some light on the mind-boggling world of video encoder hardware. By the way, you may also be interested in the previous articles in this series:
Now, back to the topic at hand. One of the first steps you need to take is understanding and choosing the right streaming encoder. This is a must for producing the best results in your live streaming video productions.
Types of Video Encoders: What's The Difference?
Encoders are the lifeblood of any live stream. They convert content into a digital format so that it's possible to live stream to your viewers.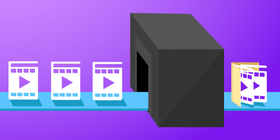 There are two types of encoders:
Hardware — a device that can connect to a professional video camera. Often called a streaming box, the hardware encoder processes the live stream video feed and sends it directly to your live streaming platform.
Software—software applications running on a computer. They can capture video from a webcam or a video camera connected to the computer. In this case, the video stream is read by the encoding software before being transferred to your streaming video provider.
Getting to grips with the technical features is daunting, especially with hardware encoders. No doubt, professional video equipment has a high learning curve for beginners. So, why bother?
Pro and Cons
The main benefit of using hardware encoders is that they are designed for the sole function of live streaming video content, meaning that other processes are not in the way. They're also a simpler choice, avoiding the kerfuffle of different apps and high CPU usage issues. High spec video encoders come with a built-in ability of 4k streaming, too.
The problem? It may hit your pocket. The best cameras and encoders in the business cost thousands and the budget ones are a few hundred. You may not be looking to get the same professional quality as Mr. Spielberg, but prepare to invest a lot if you want the best video streaming hardware.
Video encoder software, on the other hand, is the preferred choice by many YouTubers, Gamers, Vloggers and alike. Software encoders require a computer or a decent laptop with high specs, and other peripherals (e.g. webcam). Throw in a graphics card and a few plug-ins and you're good to go for a better live streaming experience.
Popular streaming software such as OBS encoder is free but it may not have all the features that you need and, frankly, the UI can sometimes be confusing. See our pick of the crop in top video streaming software encoding programs.
Choosing A Software Encoder
What to consider?
You'll need a decent laptop with high specs such as RAM of 8GB and an OS of Windows 10 version 1803 or higher, MacOS Mojave or higher. A major (computer) bug you might run into is that some software may not run on a Mac or vice versa. Check to see what you need.
If you're on PC, we'd also recommend the latest Windows to prevent lagging. Stop all non-essential programs running. There's nothing worse than when your computer decides to crawl to a standstill. So, make sure Candy Crush is shut down.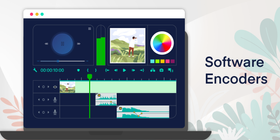 If you want to make your live stream especially captivating, you may want to invest in high-end gear such as a 4K webcam, or better yet a 360 live streaming camera. There are plenty to choose from, available on most shopping websites. To get more information on webcams and other streaming devices check our article on the best cameras for live streaming.
The best live stream encoders have the ability to broadcast to multiple OVP's (Online Video Platforms) and streaming servers. This is called simulcasting (multistreaming) and it allows you to stream your production to an unlimited list of live streaming platforms. The biggest benefit of this is a wider audience reach because you can be seen in every video platform you choose. For customer engagement and building product and brand awareness, this is a godsend.
But if your streaming software encoder doesn't support multistreaming, that's alright. You can simply use a multistreaming service.
Top Programs
Don't know where to start? Consider taking a look at the top broadcasting software this year:
And, while you're at it, check out our roundup of the best live streaming programs.
Choosing A Hardware Encoder
It might be a box… but it's got tricks.
The beauty of hardware encoders is they make streaming possible across all devices and they can offer smooth 4K streaming (which may soon be the universal method for streaming on many social media platforms such as Facebook Live, Twitch and YouTube.)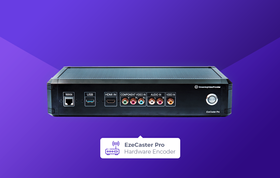 What to consider?
Using your own (brain) box, think about your audience and the workflow. Here's what to look for:
Check the internet connection options — LAN and WIFI.
Can it record and stream video simultaneously?
Is there a playback option?
A/V Connections — Check the interface for inputs and outputs for HDMI, USB 3.0, and RCA.
Latency — This is critical, especially with live event streaming, so ensure there's additional support such as Streaming Protocols that control the delivery of multimedia over the internet.
Check cloud hosting ability — Is the encoder able to share with the OVPs of your choice?
H.264 Hardware Encoders?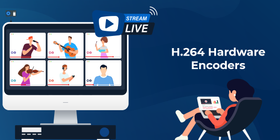 Ensuring a broadcast live stream goes like a dream, depends on the codecs. Codecs are the "toolbox" of video streaming. The codec used by an H.264 hardware encoder compresses files into the more manageable output format MP4 that is compatible with all modern devices and provides excellent picture quality even on slow connections.
H.265 is a more advanced codec and it's likely it will replace its smaller brother in the future. However, it's not industry standard as of yet. The main difference? It compresses files even further, ensuring that the stream works more efficiently on a lower bandwidth with half the bitrate of H.264.
Most H.264 encoders are equipped with standalone mode, multiple stereo ports or the ability to stream at at least 1080p. Some can even do all 3. With so many options to choose from, you're sure to find the perfect fit! We've even compiled a list for you. See below.
The Most Recommended Hardware Encoders
Software Vs. Hardware Encoders
Encoder Type

Advantage

Disadvantage

Software Encoders

Relatively inexpensive, some are open source and free (such as OBS Studio)
Less technical know-how needed

Computer lag, dependant on CPU power and usage
Added costs (e.g. graphic and capture cards, plugins)
Varying compatibility
Streaming to multiple platforms could prove difficult
UI may be confusing
Complex set-ups

Hardware Encoders

Portability
Hassle-free
Works on poor internet connections and low bandwidth
Seamless operation

Expensive
Reliable
You might need additional software
May have a learning curve
FAQs
What is the best video format for live streaming?
Knowing the differing video formats can be a headache, but don't fret! The good news is, you only need to know the essentials. In live streaming, the go-to conversion is to MP4, which is supported by most digital devices including mobile phones. There are others such as MOV, WAV, FLV, and AVI— however, most other file formats have limitations when it comes to compatibility with devices, platforms, and even browsers.
What is a bitrate?
The bitrate determines the image quality. The higher the bitrate, the better and more professional your live stream will be.
The Big Stream-Off Conclusion
So which is the better streaming encoder? Well, it all depends on what you're using it for. So, there's no definitive answer.
The main benefits of software encoders are that they're not going to break the bank, meaning budgets can be managed. However, the setup could still be costly because of all the additional gadgets you need to buy. When live streaming events and conferences, you may need additional computer peripherals or more computers. Operating on a low bandwidth may also cause lagging issues in conjunction with being at the mercy of the CPU usage gods.
So it really comes down to how big your setup is, and whether you'll be doing multi-camera streaming — for this hardware encoders are the better choice.
Still, using a high spec desktop or laptop can eliminate most of these potential issues and there is an abundance of software programs to choose from.
Location, Camera, Lights… Action!
If you're broadcasting professional live video production, such as outdoor sports and larger-scale events, you'll need something portable that's not prone to the dreaded lag.
In this case, the so-called streaming boxes win the hardware vs. software fight.
Also, if you're streaming live video from various locations regularly and want to bypass timely planning of broadcasting, an investment in a multi-bitrate HD encoder might be the one you're looking for to ensure the best output videos.
Further Reading