The 25 Most Fun Things To Do On A Live Stream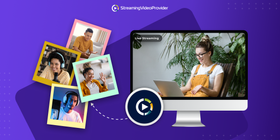 How we consume content has been changing rapidly since the 90s. We are no longer limited to just watching whatever show is being broadcast by a TV network at any given time.
The control is now in the hands of the viewer and this has created somewhat of an on-demand culture. If you don't work hard to attract viewers and 'wow' your audience with your content, don't expect them to stick around with thousands of other entertainment options available to them.
This is why it's more important than ever to entertain and engage your audience when broadcasting — to keep things interesting.
It's time to get into the fun things to do on a live stream! But first here are some features that can keep your audience engaged for longer.
25 Fun Things To Try On Your Live Stream
1. Try an IRL stream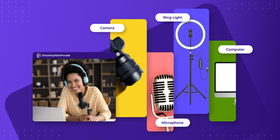 Moving your stream from screen capture to a real-life environment offers a lot of variation and a nice change of pace for your audience.
2. An Audience Q&A
Viewers love being able to ask and interact with their favorite streamers directly — this gives them that opportunity, and it's entertaining to watch.
3.Behind the Scenes
Show your community how things are behind the scenes. Having a look behind the curtain makes for different content and keeps viewers engaged.
4. Take requests
Depending on the content you are streaming, encourage your audience to make suggestions that will decide what you do on that day's stream.
5. Industry tips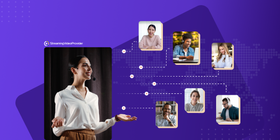 Spend a stream advising your audience on how to get into the same industry as you, and talk about your personal experience.
6. Run a giveaway
Running a giveaway on your stream rewards your frequent viewers, and will also attract fresh faces to your broadcast.
7. Host a call-in
Similar to a Q&A, you can use software like Discord to get members to call in and ask questions live on air.
8. Stress test
For example, Blentek is known for stress-testing its products and recording the process. A great way to show how great your service or product is while keeping your audience engaged.
9. Discount codes
Reward your audience for sticking around, and also incentivize the purchase of your product or service with a discount for viewers.
10. Off-topic stream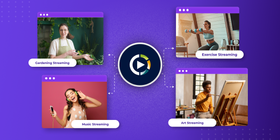 Take a break from your regular content type, and do other activities and hobbies online. Let your audience see more of your personality.
11. Fundraisers
In addition to raising money for a good cause, fundraisers are often fun to watch, and they bring your community together by achieving a shared goal.
12. Tutorials
Dedicate a stream to taking users through a tutorial that shows how your product or service works. This is also great content to repurpose to use somewhere else.
13. Meet the team
If you work as part of a larger team, you can host a "meet the team" broadcast that a lot of people may find interesting.
14. Host a Podcast
Host a podcast on stream. This is a good opportunity to interview someone else in your industry and discuss relevant topics.
15. Stream Games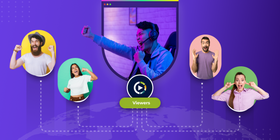 If you aren't a gaming streamer, it can still be a good chance to involve your audience by finding popular games like Fortnite Spiderman to play on a live stream with viewers. You can improve engagement and grow your own community in the process!
16. Quiz
Hosting a quiz is a great way to encourage audience engagement, and it also provides a chance to give the winner a prize related to your product or service.
17. VR Stream
VR can work really well for some products or services, and it's fun for the audience to watch the broadcaster experience it.
18. Virtual Watch Party
Watch parties allow streamers to watch movies or TV shows along with their community. It can be a nice change of pace for you and your viewers.
19. Live VLOG
This also gives your audience somewhat of a "behind the scenes" look at your life outside of work. It's a great way to build trust with your audience.
20. Troubleshooting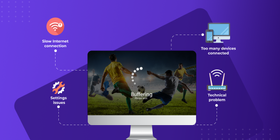 Similar to an FAQ, a troubleshooting stream can be a good way to solve some of the most frequently encountered problems within your field or industry.
21. Host similar channels
Look to host other Youtube or Twitch channels relevant to your industry or field. You never know — they might return the favor and put you in front of new viewers.
22. Viewer content
Feature content that viewers have uploaded showing your product or service, and talk about what you think of it.
23. Reaction content
Reaction videos have seen a surge in popularity lately. They are a good way to vary your stream, and can still be relevant to your usual content.
24. Pets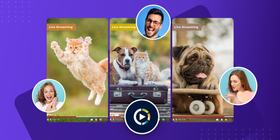 Everyone loves animals, so why not feature them on your stream? Some streamers even have dedicated cat-cams!
25. Video Conference
The next evolution beyond a call-in, a video conference gives your audience a chance to chat face-to-face and ask questions.
How to stand out from other streamers
A great way to stand out is to just be yourself! Trying to copy the style of another popular streamer is one of the live streaming mistakes a lot of new Twitch streamers and content creators make. This is a bad idea. There is nothing wrong with taking inspiration from other streamers, but don't try to become them.
We can all seem boring and lacking energy sometimes, but if you work on bringing the best parts of your personality out in an energetic way, viewers will start to stick around for longer.
Even more tips to make your stream more interesting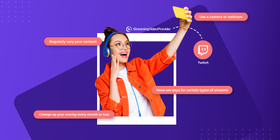 A great way to make your live stream more entertaining would be to start with our top 25 list of fun ideas for your broadcast. You shouldn't just pick one, but decide on a few that are relevant to you, and try to include a few of those stream ideas on different days.
If you are a new streamer learning how to get people to watch your stream, it is very important to start with a streaming schedule and then refine your live streaming content.
Here are some streaming tips to improve your broadcast
Have set days for certain types of streams - Tuesday could be FAQ day, etc.
Regularly vary your content
Change up your overlay every month or two
Try OBS widgets
Use Twitch extensions to make things more interactive
FAQs
To entertain your audience, it's important that you identify the main elements that your viewers enjoy watching. Once you have done that, you can refine your content production, presentation, and personal skills as a streamer.
Many streamers are looking for new and creative ways to use live streaming to stand out from their competition. This makes it even more important to set yourself apart from others and let your personality shine through.
Here are some quick live streaming tips to help you keep your viewers, and entertain a live stream:
Be as enthusiastic and energetic as possible
Try not to sound monotone while speaking
Regularly engage with your viewers
Be authentic — be yourself
Incorporate user feedback into your stream
Not all of your streams are going to be suitable for repurposing, and that is completely fine. Content such as FAQs or tutorials is suitable for repurposing as they can be edited down into clips that can be posted to your website to help your users.
This also gives you a great starting point for a blog post as most pieces of repurposed content can be expanded and elaborated upon. Another popular idea is to use the edited down content within social media posts. This can be input into tools like Hootsuite for later scheduling with appropriate hashtags, or used elsewhere in your marketing strategy.
Repurposing is a great way to create content from existing material that can be delivered to a different part of your audience.
There are some best practices you can apply to ensure the quality of your content is consistent. It is good to vary your content randomly on certain days, but also have a schedule to stick to so your audience knows what to expect.
Here are a few live video streaming tips to consider:
Be polite, energetic, and respectful to other streamers, and your audience
Configure your stream optimally for the best live broadcast quality
Have days dedicated to a topic or theme, and also keep other days varied
Regularly engage with your audience — they are a huge part of your stream
Be consistent and have a streaming schedule
Have a well-thought-out stream title for YouTube and Twitch streams
Conclusion
You should now have a list of fun content ideas and streamer tips that you can experiment with to enhance your live streaming videos, and keep your audience engaged. You can make each of the suggestions your own by changing up the way you implement them into your broadcasts.
It may take a while before you get things polished and well implemented, but persistence is key! Sticking to the best practices for live streaming is important as eventually it becomes second nature, and really improves the overall quality of your content.
Some ideas may work better for you and resonate with your viewers more than others so experiment around to find fun things to do on live stream broadcasts.
Once you have a few months of experience under your belt, you will no doubt have live streaming tips and tricks of your own that you can incorporate into your future streams.
References & Further reading
If you want to learn more about live streaming, or any of the terms mentioned in the article, see these links.


It Takes 2 Clicks To Stream To Multiple Sites
Try It Free