Top 9 in 2023: The Best Live Streaming Platforms For Business
With so many live streaming platforms out there, finding the right one overnight is a lot like sticking your hand in a pack of M&Ms, your eyes closed, and hoping to pick up a green candy. It rarely happens on the first attempt.
Which live streaming features do you need? What do they even mean? Does it cost as much as they say it costs?
Scouring the sites of dozens of online video platforms is far from fun. That's why we've decided to spare you the effort and give you the skinny on the top live streaming service providers.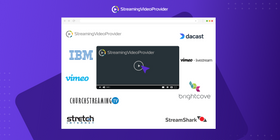 Free Live Streaming Platforms vs. Live Streaming Platforms For Business
Free video platforms cost nothing and allow you to reach millions of people around the globe. That's where their advantages end, though. Facebook Live, YouTube Live, Periscope, Twitch are all great for marketing but they take away the control from you. You have to abide by their rules or else you are banned without prior notice.
The reality is that, if you want to broadcast live video professionally, you need a live video platform for business (which is paid). Unlike free platforms, paid-for platforms can help you protect your content, monetize it and retain full control over its distribution.
List Of Top 9 Live Streaming Platforms In 2023
StreamingVideoProvider is an all-in-one live streaming platform. Among other things, it allows you to broadcast reliably around the globe, monetize your live streams in a heartbeat and protect your content from the myriad of online threats.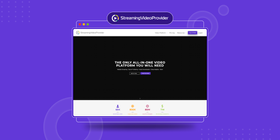 Adaptive 4k Video Live Streaming

You can broadcast in 4k UHD. If the viewer's device or internet connection won't allow them to watch in 4k, the platform will automatically adjust the video quality in real time. The service also features:

Live stream auto start
Unlimited live channels
Live stream fallback (in case your connection is interrupted)
Live stream recording (live stream can be watched on demand at the same URL)
Live chat

Secure Video Streaming

Domain Hotlinking ensures no one can restream your paid event on their website.
Digital Watermarking discourages screen recording.
Two-factor authentication prevents a viewer from sharing their ticket with someone else.
Password protection allows for private video streaming

White Label Live Streaming Service
You can place your own logo and colors, customize the URL and erase all traces that lead back to SVP
Real-Time Analytics
You can view detailed data about your viewers and how they are engaging with your content.
Video Monetization
Sell Pay Per View (PPV) tickets, start a streaming service or add a "Donate" button. You get paid instantly and keep all of your earnings.
Video API
You can easily build custom apps and solutions or integrate your video content with third-party platforms.
Price
Plans start at $44/month and include all of the above features.
2. Dacast
The next live streaming platform we'll review is Dacast. Their promise is to allow you to stream live video around the world without compromising on quality.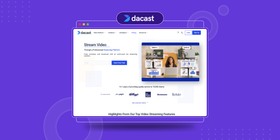 | | |
| --- | --- |
| Auto Archiving | Dacast live streams are automatically recorded and available for later viewing. |
| White Labeling | Dacast offers customization options like the ability to add your company logo and change the color scheme of the player. |
| Monetization | You can set up pay-per-view tickets with Dacast. The viewer will be able to pay and access your live stream from within the video player. You pay a commission of 9.9% + $0.40 per ticket purchase. There is a 35 day delay in the time it takes for you to get your money (from PPV). |
| API | The Dacast API allows you to build your own solution on top of their platform. |
| | If your viewers would prefer to listen rather than watch, you have the option to offer an audio-only stream. |
| Third-Party Ads | You can run pre-roll ads in order to monetize your video. |
| Price | The pricing for Dacast's services starts at $19/mo (only available annually). If you want to pay month-to-month, the price will be $165/mo with a 3-month commitment. |
3. Stretch Internet
Stretch Internet is a live streaming platform primarily focused on sporting events. Here are seven of the most important things to know about this platform.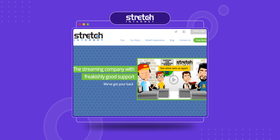 | | |
| --- | --- |
| Adaptive Streaming | The adaptive bit rate allows the video quality of a broadcast to increase (or decrease) depending on the viewer's Internet speed. |
| Available On Multiple Devices | Stretch Internet streams are available on a range of devices including computers and mobile devices. |
| Monetization | Monetization options include pay-per-view ticketing and pre-roll ads that you can show before your stream begins. In order to use the PPV feature, you have to negotiate a revenue split with the company which is expected to be about 50-50. |
| Sports Stats | For sports broadcasts, you can display live stats and scores. |
| Audio and Video Clips | Collate audio and video clips from events to provide viewers with easy access to your media. |
| Multiview | Multiview (picture-in-picture) allows you to broadcast from several sources at once. |
| Price | There is no free trial available, so the only way to get pricing and try the platform out is to contact them. |
4. IBM Cloud Video (Ustream)
IBM Cloud Video is the live streaming service born out of Ustream. Although it doesn't offer any ways to monetize your live streams, the platform does allow you go live quite quickly. Here are seven of the most important things to know about this live video platform.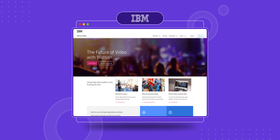 | | |
| --- | --- |
| Customization | IBM Cloud Video provides you with one channel where you can highlight previous broadcasts, upcoming events, and more. Their branding is visible on the channel page and hidden in embedded videos. |
| Video Playlists | You can put together playlists of your videos and share them on your channel. |
| Live Chat | The player comes with a live chat box to let your viewers interact with your broadcast as well as engage with each other. |
| Recorded Videos | Broadcasts are recorded as a private video that you can share later on. |
| Copyrights | Much like YouTube and Facebook, IBM Cloud Video has a copyright enforcement service which is intended to detect copyrighted content automatically. This means that your broadcast can be terminated while you're on air. |
| Monetization | If you want to monetize your live streams, you have to use a third-party service such as Cleeng. You can insert ads in your live stream if you wish. |
| Price | The starter plan is $99 and allows you to only broadcast in 720p HD. The free trial allows you to stream to up to five concurrent viewers without ads. |
5. Brightcove
Brightcove's video live streaming platform comes with the industry-standard HTML5 player and full live streaming capabilities. Brightcove doesn't have any integrated live stream monetization options but you can use a third-party integration to charge for your live streams.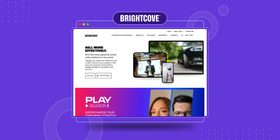 | | |
| --- | --- |
| Adaptive Streaming | Like just about any other platform on this list, Brightcove adapts the live stream quality to the the speed of the viewer's internet connection. |
| API | Like most other live streaming platforms, Brightcove comes with a developer API that allows you to create apps and other software around your video content. |
| SSAI | "Server-side ad insertion" or SSAI technology can deliver custom ads to your viewers. |
| Live Clipping for Social | This feature lets you capture a snippet of a video and repost it to social media platforms. |
| Analytics | The platform provides real-time data about player loads, the number of plays, the number of minutes viewing, etc. |
| Monetization | There are no built-in monetization option. If you would like to monetize your live streams, you can integrate Brightcove with a third-party platform such as Cleeng. |
| Pricing | Brightcove is positioned as a platform for enterprise live streaming, so they don't reveal their pricing on the website. According to third-party sources, plans start at $199/mo billed annually. |
6. Livestream
Live video streaming platform Livestream has been operating for the past decade. Recently acquired by Vimeo, Livestream offers the essential live streaming features to its users.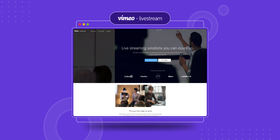 | | |
| --- | --- |
| Customization | Livestream allows you to customize the video player, add your own skins and adjust the looks of your live video channel. |
| Live Chat | Viewers can comment on your stream with integrated live chat. |
| Password Protection | You can lock your broadcast with a password and do private live streaming. |
| API | Your developers can use the API to develop a 3rd party video application with the help of any of these API management tools. |
| Analytics | Figure out how viewers are engaging with your video, view the number of plays, etc. |
| Monetization | Livestream videos allow you to monetize your video content either through paywalls (pay-per-view sales) or by offering subscriptions to your viewers. This functionality is only available on the Enterprise plan. |
| Pricing | Livestream plans start at approximately $75 per month when billed annually. |
7. StreamShark
Not as widely known as Livestream, StreamShark is an Australia-based streaming platform created by the MetaCDN content delivery network. This streaming service provider promises to deliver your live broadcast worldwide and has full support for mobile devices.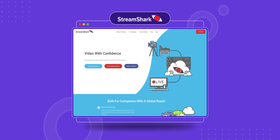 | | |
| --- | --- |
| CDN | StreamShark's live streaming CDN can deliver your live stream around the world. |
| Customization | You can customize the colors of the video player in-line with the branding of your business. |
| Real-Time Stats | StreamShark offers real-time insights into how viewers are engaging with your live stream. |
| Customization | You can change the player logo and color scheme. |
| Embedding Restriction | You can prevent other websites from embedding or restreaming your live event. |
| Monetization | This live streaming provider doesn't offer pay per view paywalls but allows you to monetize your content with VAST and VPAID ads. |
| Pricing | Plans for small businesses and individuals start at $50 a month, though this plan leaves out useful features such as Google Analytics support, advertising support, and privacy controls. |
8. Vimeo Premium
The Vimeo PRO plan doesn't offer live streaming which is why we're reviewing another flavor of the service—Vimeo Premium. The flavor of Vimeo features the all the tools you need to set up and run a live stream but falls a bit short on the security side and monetization is only possible through ads.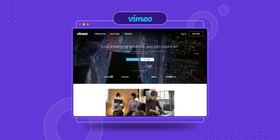 | | |
| --- | --- |
| Customization | You can change the player logo, colors, and controls. |
| Analytics | Real-time insights about how long your viewers watched as well as shares, plays and other insights about videos posted on social media. |
| Cloud Recording | Your live stream is automatically archived and available to viewers on demand. |
| Domain Restrictions | Prevents your live stream from being embedded on websites other than those you whitelist. |
| Worldwide Streaming | Vimeo Premium allows you to stream to most locations around the globe except for China. |
| Monetization | You can insert your own custom ads but, currently, there is no possibility to set up pay-per-view tickets for your live stream. A workaround would be to use a third-party player. |
| Pricing | Vimeo Premium starts at $75/mo billed annually |
9. ChurchStreaming.tv
Our final pick is the specialized streaming platform Church Streaming TV. This live video platform is designed for churches and other religious organizations, allowing them to stream and archive their sermons and religious events.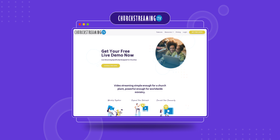 | | |
| --- | --- |
| Works On Any Device | Streams are viewable on mobile devices, laptops, desktop computers, smart TVs, and set-top boxes. |
| Real-Time Viewer Analytics | Users are able to see real-time viewer analytics including viewer location, how long they've been viewing for, and which devices they are viewing your stream on. |
| Live Stream Replays | Your live streams are automatically recorded and can be viewed when your stream ends. |
| Audio Extraction | Audio can be extracted from your live stream allowing you to broadcast an audio-only feed or to be used in a podcast. |
| Password Protection | You can password protect your streaming broadcasts to allow private viewing e.g. limit it to members of your congregation rather than the wider viewing public. |
| Donations | There are no donation features or a pay-per-view ticketing system. |
| Price | At $139 per month, ChurchStreaming.tv's subscription package is significantly more expensive than many other live streaming platforms out there which is probably due to the fact that it's a niche video streaming platform. |
How To Compare Live Streaming Platforms
Generally speaking, most platforms offer adaptive streaming and support for mobile devices. These should be the essential minimum to look for. In addition to that, the best live streaming platform will offer monetization and security features. Here are some advanced questions you might want to ask.
Will you need more than one live channel?
If you plan on creating several channels (with separate branding), check if the platform has any limitations on this. Some live streaming providers only allow you to have one channel page.
Will you be streaming to China or to corporate employees?
Make sure the platform isn't restricted, e.g. Vimeo is not available in China.
Do you plan to monetize your live stream?
Check if the platform supports pay per view paywall. Some live streaming services have all the features you need, except for monetization. It's true that there are third-party paywalls like Cleeng that you can integrate with your live streaming provider. However, this can be a security risk because, essentially, a third-party paywall is an overlay. Your live video is exposed below this overlay. When you're using a paywall that's integrated with your live streaming platform, the live stream will not be delivered before the payment is complete. If you want to broadcast a show online and monetization is important to you, look for live streaming services for events because they are more likely to have the right monetization features.
What is the commission?
Most live streaming platforms take a cut from your sales. While this might seem like a negligible expense, it can turn into a hefty sum of money as you scale, e.g. if the live video platform takes a 10% commission, this means you pay $1,000 for every $10,000 you earn. Not very appealing, is it?
Can it stop viewers from sharing their PPV tickets?
Ticket sharing can result in huge losses for you. Find out if your video broadcast platform of choice has any way of preventing it.
Can it protect you against screen recorders?
Your viewers can use a screen recorder to capture your live stream. What is worse, they can share the recording on torrent sites or even resell it. There are ways to prevent that, .e.g. The Dynamic Digital Watermark that StreamingVideoProvider has.
Can it prevent others from embedding your live stream?
The Hotlinking Prevention (Domain Restriction) feature that many platforms have does just that. It ensures that no other website can restream your content.
Do you need to create private live streams?
In this case, the ability to password-protect your broadcasts will be very useful.
Do you need a white label streaming service or just customizations?
White labeling means that all traces of your live streaming service provider will be erased. It's like you custom-developed the platform for your company. With customization, you get to change the logo and colors but there are still indications that your live stream is being powered by another company. Find out which one your live streaming provider is offering.
Further Reading