Video Hosting And Live Streaming Platform That Works In China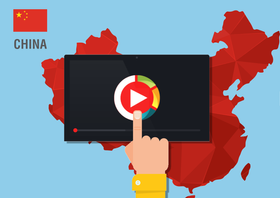 Are you looking for video hosting and live streaming CDN service that can deliver your video content inside China? If so, this is your lucky day.
As you probably know, the Chinese Government has blocked many video platforms and streaming video services, such as YouTube, Vimeo, Dailymotion, Twitch, Periscope, Facebook Live. The initiative was dubbed (all-too-appropriately) the Firewall of China.
But that was only the beginning. Recently, they passed another set of legislations according to which you need a special permission from the government to be able to live stream to Chinese viewers.
Obviously, the Chinese grip on internet freedom is only getting tighter. So, what can YOU do as a broadcaster?
Your first thought might be, "I'm sick of their stupid censorship! I'll just pass…" But then again, it's the second largest economy in the world. Lots of business opportunities there.
Your second thought might be "I'll get my hands on one of these permissions!" But after a few months of back and forth, you'll probably want to quit.
We can attest to the truth of this latter statement because we worked to get permissions for our own streaming video service. It's no picnic party but we made it through! And, now, it's official...
StreamingVideoProvider is a video video hosting site that works in Mainland China!
You can use our video platform to upload your video content or stream live events, seminars, TV and radio shows, church streaming services, corporate meetings etc., and deliver them to your viewers worldwide, including those who are located inside mainland China.
This was possible because we have our own global video CDN network (Content Delivery Network). In light of the recent laws China has passed, we took action and expanded our video CDN in China. We placed more delivery points inside the country and, in particular, the Shenzhen region (China South). We also have plans to add more in the near future so we can cope with the increasing demand from our customers who need stable video delivery for their Chinese audience.
Full HD Video Delivery In China
Not only can StreamingVideoProvider deliver your content in China, but it can also do so in HD thanks to the proprietary adaptive multi-bitrate video streaming technology. To ensure the best possible experience, our super lightweight HTML5 video player adapts your live streams in real time to each viewer's internet connection speed.
So, there you have it: A video streaming service that is in English and works inside China.
Want To Give It A Try?
You just need to take 3 easy (no more than 5 minutes):
Create Free Account with StreamingVideoProvider

Click on Add Media and select if you wish to Upload Videos or create New Live Stream.

Publish your Video Player or Video Playlist by copy/pasting the embed code to your site or blog. Alternatively, there are social sharing options and a private link you can send to over email or private message.
That's all! Your viewers inside China, together with the rest of the world, will be able to stream your content without delays, buffering and regardless of the Great Firewall Of China.
If you are an existing user of StreamingVideoProvider and are wondering what changes you need to make inside your video panel to successfully deliver your videos and live streams inside China, the answer is nothing. It is all done automatically on our end.
So, happy streaming! :)