The 6 Common Mistakes to Avoid When Live Streaming an Event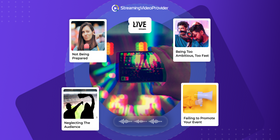 Live streaming has never been as popular or more accessible than right now. This forecast shows that by 2024, the number of people watching live stream videos in the US will rise to almost 165 million.

You may think people mostly live stream concerts, comedy shows, or even gaming. But there are many other uses for it, and a lot of different businesses can benefit from live streaming. You can stream anything from youth sports to conferences.
Whether you are streaming a product demonstration or a graduation ceremony, you have to ensure your live-streamed event goes as smoothly as possible. Unfortunately, there are plenty of potential pitfalls to look out for!
We'll explore six of the most common live streaming issues or mistakes and how to avoid them.
What are the Benefits of Live Streaming Your Event?
Let's look at the top benefits of live streaming an event.
Reaching a wider audience
An in-person-only event is only accessible to people who live nearby or can travel. Since live streaming is done via the internet, anyone with an internet connection can join an event. This means that live streaming can dramatically increase the number of people in your audience. You can reach followers who have never been to one of your physical events.
Archiving your events
Live streamed events are much easier to revisit in the future. They can be recorded on a capture card, and often are by default, depending on the software used. You can even charge a fee to view these events, which will add a source of revenue to your business.
Boosting future attendance
Live streams can be an excellent way of showcasing the quality of your events. Many attendees who view live streamed events will decide to attend in-person events hosted by the same organization in the future.
The Most Common Live Streaming Mistakes
To make the most of the benefits of live streaming, you will need to avoid common mistakes and maybe do live stream troubleshooting. Here is how to avoid these mistakes:
1. Being Too Ambitious, Too Fast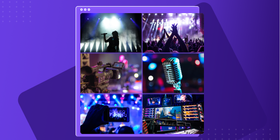 When you are planning a live streamed event, it is important to avoid biting off more than you can chew. Until you have some experience in putting on live streamed events, it is usually best not to be overly ambitious. The more ambitious an event, and the more "moving parts" involved, the more things that can go wrong.
For example, it's best to avoid an event where guests enter the stage in rapid succession on your first live stream. Two other aspects to avoid at first are frequent changing of cameras, or multi-camera live streaming, and significant visual effects (whether practical or digital effects).
Besides, getting carried away with visual gimmicks can sometimes even detract from the intended message of your event.
A business talk may need a slideshow and a couple of video clips but probably won't need a live band. If you are showcasing something straightforward and simple, you don't need a ton of fancy visual effects or paid actors in your live stream! Stick to the relevant topic and keep things as short and sweet as possible to avoid live streaming problems.
Instead, focus on delivering your message effectively. As soon as you've successfully live streamed events and gained the confidence that comes with experience, you can add more fun elements to your live stream.
2. Choosing the Wrong Technology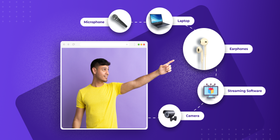 Many live streams fail due to organizers choosing the wrong technology. The usual components of a live streamed event include a camera (or multiple cameras, if needed), a microphone, lighting, and a hosting service.
To stream a webinar or similar event, you may only need a PC/laptop with a microphone and streaming software. Plenty of webinars consist entirely of screen-sharing!
However, even for a small-scale event, it is still important to ensure that everything works correctly and offers your desired quality. For example, the built-in microphone and webcam on your laptop may not offer the high-quality results you need to deliver an appealing presentation.
Doing research into the streaming equipment you need – both software and hardware – is highly recommended. Or you don't want to find your streaming videos not playing because of live stream buffering issues or video buffers.
Don't underestimate the technology needed to deliver a successful event. If you are filming on a stage, you need to consider lighting, whether it's the venue's lighting or your own supplied lighting. Will it look as good to viewers at home as it does to people who are physically attending the event?
The same goes for audio quality. A microphone and speaker setup can sound great in person, but this quality will not necessarily translate over a live stream. You may need an audio mixer. So it may be worth finding a production company that specializes in live streamed events to avoid live stream audio problems.
When choosing the best microphone, whether it's dynamic, XLR, or another type, read the reviews and what these products were specifically designed for. This goes for stage microphones and video cameras as well as for computer microphones and webcams.
It may be worth investing in the best live streaming equipment possible to deliver quality in your live streaming experience. If your budget is tight, second-hand equipment is often just as good. Just make sure that you only buy equipment from a licensed seller with a valid reseller certificate.
Finally, it is important to choose a hosting service that offers the features you need to successfully stream your event. It's not good to find your audio and video out of sync when live streaming online because of something you have no control over. Many social media sites offer live streaming capabilities, making your event more accessible to a larger number of viewers. However, you may prefer a more dedicated hosting service with more features.
3. Not Being Prepared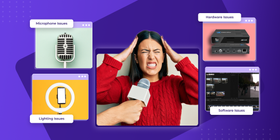 Anyone familiar with software development knows the importance of testing software before going live. Things rarely go according to plan the very first time! It's the same with live streams.
Preparation is key for a successful live stream. And you might be surprised how much preparation is needed. There are so many different "moving parts" in a live streaming setup. These include technology, hardware encoders, software encoders, individuals, topics to talk about, and more. Each element needs to work properly for the whole event to be a success.
Most streaming platforms allow you to "preview" your stream before the real thing. Make use of this feature, as there are plenty of things that can go wrong. To name a few, you can look at bandwidth issues (bandwidth can vary at different times of the day), video encoder bit rates, buffering issues, and more.
You should also thoroughly test all microphones, cameras, lighting, and any other pieces of gear needed for your event. It's always good to do a full rehearsal before your event. Here you can test everything, including all speakers, pieces of equipment, and your live streaming platform of choice. If a full rehearsal is not possible, try to test as many individual elements of the event as possible. It is very effective to have a rehearsal ahead of time and another one on the day of the event or the day before.
Does your event include elements that may be difficult to get right in one "take"? In this case, you may consider pre-recording certain sections or even most of the event!
Pre-recorded segments may be considered "cheating" for certain types of events. An audience won't take well to a pre-recorded musical performance that was advertised as "live". But other events such as business talks or product demonstrations are often pre-recorded. This enables you to feature speakers that may be unavailable on the day of the event.
Another useful tip is to make sure that you have a backup plan. Think of any aspect of your event that could potentially go wrong, and plan an alternative. Pre-recorded content is particularly useful to have on hand when you experience technical issues or other problems that prevent live capture. Back-up WiFi routers can also be useful if your main connection is lost.
4. Failing to Promote Your Event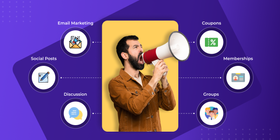 You can plan and deliver an incredible event, but there is little point if nobody actually sees it! To make sure that seats (or their virtual equivalents) are filled, people need to know about your event.
This means promoting your event widely and strategically. Simply posting about the event a couple of times on your social media platforms of choice is unlikely to be enough unless you're lucky enough to have a huge number of dedicated followers already.
To effectively promote your event, it can be helpful to use some marketing principles. Think about your intended audience and what channels they are likely to use. If you are delivering a talk on sales tactics for software companies, you will want to promote in spaces where this type of business owners convene.
If you have the time and the resources, treat your event promotion like an upcoming product launch. Use every relevant channel. Build anticipation gradually over the weeks leading up to the event. And get influential contacts to share your announcements.
Use content marketing and guest posts, start a competition, or any combination of these! Learn more here about video marketing metrics to track.
When promoting your event, make sure that it is easy for people to sign up for it. The fewer times they need to click, the better!
5. Neglecting Audience Experience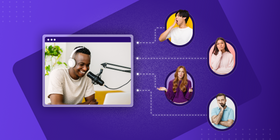 Audience experience is an important part of an event. Many audiences are likely to grow bored if they are simply watching talks for a long period of time. Some interactions can go a long way to keep your audience engaged. And therefore, they are more likely to return to future events.
There are different ways to interact with your audience and make your event much better for everyone involved. For example, if you are sales coaching online, you will likely want some audience participation. This will help your attendees get answers to their questions and ensure they get more value out of the event.
A streaming platform with a live chat feature makes it easy for your audience to ask questions. And you can also use this to share external resources that may enhance the audience experience. Depending on the nature of the event, you could even have a presenter answering audience questions in real-time.
If a live chat window is likely to cause distractions, many platforms enable you to disable live chat. However, you can still foster audience participation by setting a brief window of time to enable the chat feature for audience questions.
A planned question and answer session at the end of the event can be great for audiences and presenters. You could even go the extra mile and plan a quiz with prizes!
6. Failing to Optimize Your Event Afterwards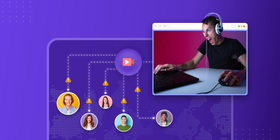 The benefits of hosting a live streamed event do not end when the event does. Events won't only bring an audience to your business, but they will also bring you valuable data and resources.
Signing up for an online event typically requires providing some personal contact details, such as an email address. You can use this information (with permission, of course) to continue sending marketing materials to the attendees after your event has ended.
You can also analyze attendance data, including the geographical location of attendees, what percentage of the audience tuned into the event until the end, etc. This will help you to work out the strengths and weaknesses of your event and use this information to improve future events. Linking this data to Google Analytics or other data analytics solutions is also recommended.
The recording of your event itself can also continue to generate value for your business. Footage of a successful event can be a useful piece of content that brings attention to your business long after the event. This footage can be uploaded to your YouTube account, shared repeatedly on your social media channels and via recurring emails to those on your mailing list, and more.
For optimal engagement, you can craft a video distribution strategy and consider promoting archived events.
The Future of Live Streaming
Despite the steady return of in-person events as the pandemic recedes, the popularity of live-streamed and hybrid events looks set to stay for the foreseeable future.
The benefits of live streaming for both creators and audiences are extensive, and live streaming events may become an essential part of doing business. Learning the best ways to plan a successful live-streamed event can be an excellent investment of time and money.
References & Further Reading