All of Your Questions About Uploading and Sharing Private Video, Answered

Video is the best way to share information quickly. And not just with the entire world. Uploading private video is great for communicating with teams, coworkers, freelancers, contractors. It works well for sharing with other internal groups, too.
It's easy to see why private live streaming is one of the most efficient ways to communicate with a select group of people. (Conducting private live streams is becoming more popular for live events, too.) But until recently, it wasn't an easy thing to do.
Privately sharing video is now straightforward. Before we talk about the ways you can protect your private videos, though, let's take a look at some of the best reasons for private video instead of sharing with a traditional video platform.
Read on below and become a Video Privacy Ninja!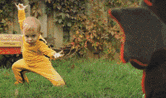 Why Upload Private Video? Why Not Just Share?
In most cases, you might not care how many people see your video. In fact, you probably want as many people as possible to see most types of content.
But there are lots of reasons you might want to upload video to share privately among a small (or even a large) group of people.
For example, you may want to share business training videos that you'd rather your competition not see. Or you could share recordings of private meetings with people who couldn't attend—you certainly wouldn't want those getting out.

You can record product demos, employee feedback, company events, and all manner of other things to share with employees that couldn't attend. Many people might benefit from reviewing the footage later, too, even if they were there.
And with private video sharing, you don't need to worry about that footage falling into the wrong hands.
Beyond business uses, there are also plenty of video on demand (VOD) and subscription streaming services that could be hurt by people sharing their content for free. Whether you're selling an online course on workforce productivity or yoga classes, you'll certainly want to protect your course content from being downloaded.
Freelancers, consultants, mentors, and other people upload private video, too. If you want to share information with someone, there's a good chance that private video is the way to do it.
And, of course, you can share videos with friends and family, too. It's much better than sending a file from your iPhone!
But security is always a concern. How can you be sure that no one else will see your videos? There are several methods you can use to upload video online for private viewing, each with their own advantages.
How Can I Protect My Online Private Videos?
When you share videos privately, you need to make sure they're protected. If anyone can watch, share, or embed them, they're not very private. Here are four ways you can make sure that your videos are only seen by the people you share them with.
Option #1: Password Protection
This is the most basic way to share videos online privately. If a user doesn't have a password, they can't watch the video. It's as simple as that.
In the past, you would upload private video to a page and password protect the page itself. That keeps many people out. But you can now password protect the video itself. Even if someone gets access to the page, they still won't be able to watch the video without the password.
This protects you from someone sharing the URL with others.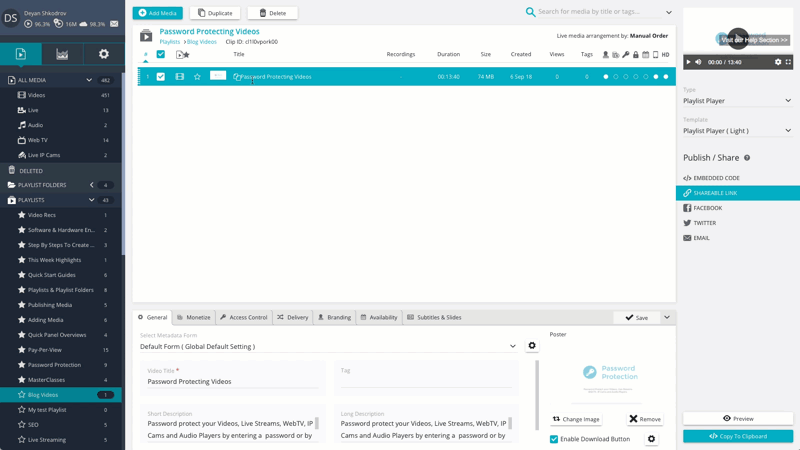 Modern private video sharing sites also let you track password usage from a central dashboard. Each person with access to the video has a unique password, and you can see when and where each one was used. (And, of course, you can revoke them at any time.)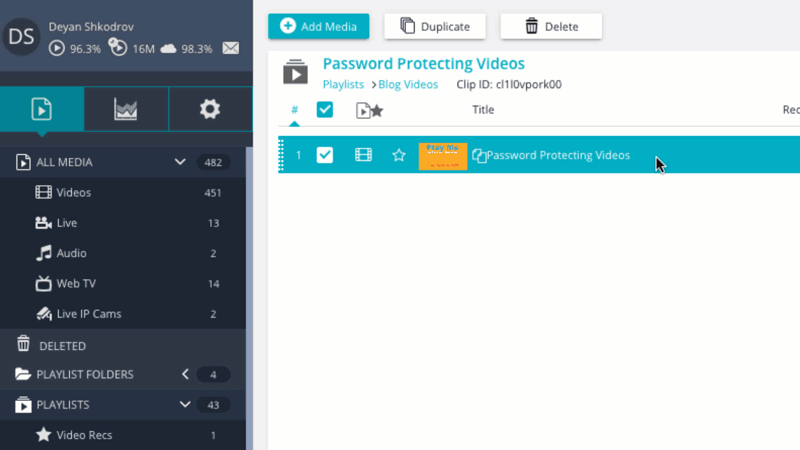 This method still requires that you manage a number of users and passwords. If you're only sharing with a small group, that's not likely to be a problem. But if you want to share with a big team, you may want to consider another method.
Option #2: IP Restrictions
If you want to upload and share videos privately with a group of people working from the same building, you might protect your private videos with an IP restriction. In many cases, people using a single access point will have the same IP address.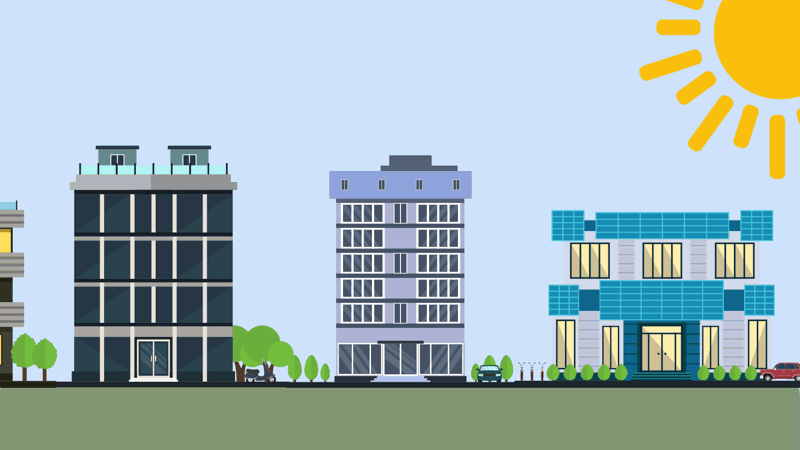 For larger companies, you can use a range of IP addresses that represent multiple access points throughout a large building or a campus.
This type of sharing is ideal for business video. You can share training videos, product information, and anything else you might want to share with your entire company.
If you want to share with a larger group, though, you may want to consider geolocation restrictions.
Option #3: Geolocation Restrictions
You've probably run across these types of restrictions before. Certain Netflix movies, for example, can only be watched by viewers in specific countries. Private video sharing platforms give you this same power.
But you can get more granular than the national level. Instead of limiting your video to viewers in a specific country, you might identify a specific region. Or an individual state. You can get as specific as you want.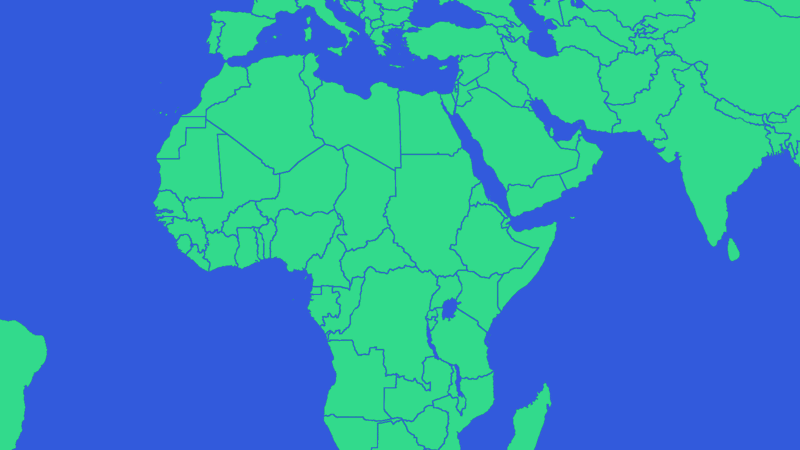 You can also set up blocking to work the other way around: instead of whitelisting areas, you can blacklist them. So you can say that people can watch from anywhere in South America except Peru.
There's a great deal of customizability here, and you can use it, however, best fits your sharing needs.
It's worth noting that proxies and VPNs can bypass these restrictions. If you're really worried about people watching your videos when they shouldn't be, geolocation restrictions may not provide enough security.
Option #4: Encryption and Linking Protection
No matter which types of restrictions you use on your videos, there's always the chance that people will try to circumvent them. And it's difficult to stop the most motivated people.
That's where encryption comes in. By encrypting your video, no one will be able to embed it on their own website. The same goes for linking protection; if someone tries to link to your video to display it on their own site, they won't be able to.
This doesn't provide as much protection as limiting your video to a specific IP address or password protecting it. But when those aren't viable methods, you can use these to add a bit of security.
(If you want to see these methods in action, check out our Secure Video Streaming page. There's a video there that you can't watch without a password and can't be downloaded for sharing by your favorite video downloaders!)
Can't I Just Share Videos Privately on YouTube?
Well, yes . . . you can. But it's a bit of a pain.
You'll need to specify which people can see it, and they'll all need to be signed in to prove to YouTube that they're on your list. And if you want to share with more people, you'll need to manually add them to the list.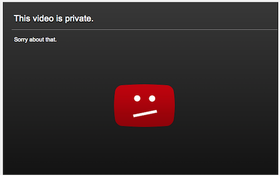 Making a video available but unlisted lets others share it, but doesn't provide any protection against others seeing it. It's a decent way to store videos online privately, but doesn't give you many useful features.
And if you want to share live streaming video, you'll need to go through these steps whenever you want to share new content.
It's certainly possible. But it requires a lot more effort than if you were to just using a private video sharing platform in the first place.
There are other private video sharing websites that you might consider, too. Vimeo, for example, lets you share videos privately if you pay for their Pro plan.
Dacast, Vzaar, and similar sites also give you the option to share privately. But you'll pay for it, and you won't get the same features that you will with a site that's purpose-built for private video hosting.
And yes, you could use Google Drive for a similar purpose . . . but won't have any analytical data showing if someone has watched your videos, when, what part of the video is most watched etc.
How to Share a Video Online Privately?
Click To Tweet
After all that, you might be wondering how to share videos online privately. Fortunately, it's easy. Just follow these steps.
Open a free account at StreamingVideoProvider.com - the best cloud video hosting and sharing site for your private videos - it's totally free and it comes with a great customer support :)

Upload your video or create a live stream.

Set up the privacy settings such as password protection, domain, geo and ip restrictions.

Get the shareable link.

Send the link to whoever you want to have access to your video. Because we don't list your video anywhere on our website, it's completely private.
Wrapping This Up…
Share Videos Privately and Save Time
Secure sharing of your videos used to take a lot of time. Now it can be done in a matter of a few minutes, and you can be even more selective in the groups of people that can watch your content.
Don't spend 30 minutes figuring out how to word that email. Just record a five-minute video.
Don't get distracted taking meeting notes to share later. Record the meeting and share it.
Stop wasting time trying to figure out how to manage users and passwords on YouTube. Use a central dashboard to manage it all in seconds.
If you're ready to upload videos online to share privately, open a trial account to try out our software with no commitment. We offer free private video sharing—you don't even need to enter your credit card information. What do you have to lose?


It takes less than 5 minutes to upload, password protect and share your videos privately!
Start For Free