Prevent Pay-Per-View (PPV) Ticket Sharing With Two-Factor Authentication (2FA)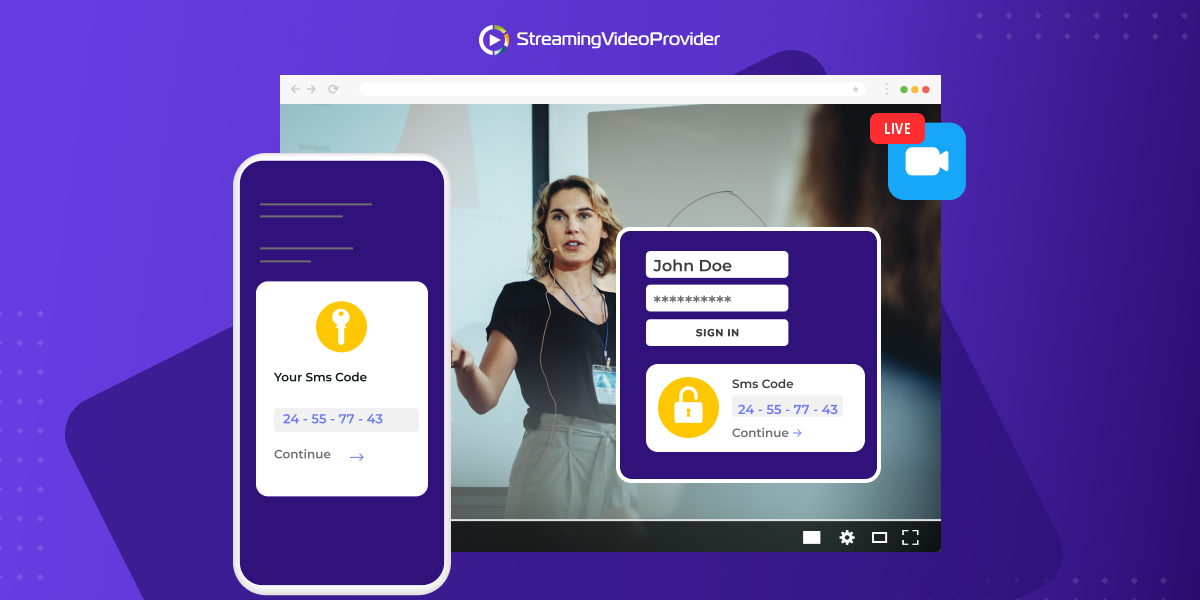 Finally! Today we've launched one of our most anticipated features—two-factor authentication, which stops your viewers from sharing pay-per-view tickets. If that sounds too techy for you, don't worry. It's super easy to use. We're going to give you the long and the short of it in this article.
What is two-factor authentication (2FA)?
Two-factor authentication means that, besides a password, you need a second code to prove that it's you who's logging in. You've probably already used 2FA in day-to-day life. For example, when you enable 2FA on Facebook, it uses your mobile phone to confirm it's you. When you try to log in, you get a security code via SMS and you need to enter that code together with your password. This ensures that no one will be able to use your account even if they have the password.
Two-factor authentication in StreamingVideoProvider is based on the same principles.
How does it work?
Here's what the customer experience looks like when someone buys a pay-per-view video ticket.
Instant access. As soon as the payment is processed, the viewer can start watching. They don't have to think about passwords at this point. Note that you can sell multiple videos with one PPV ticket, e.g. let customers access an entire video playlist with a single payment.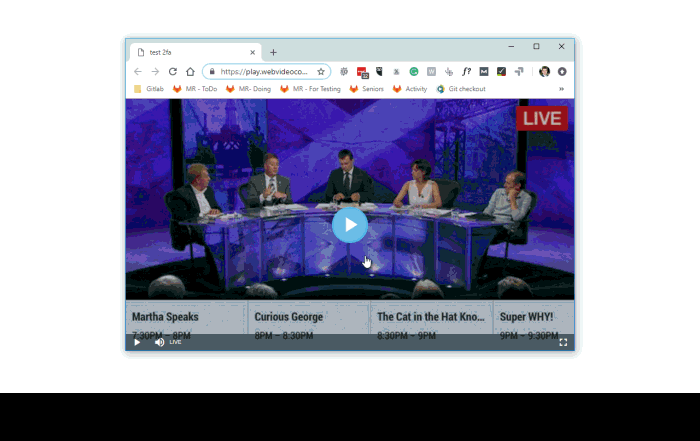 PPV password is sent over email. Upon purchasing, they receive an email with a unique PPV password. This password is only required when the viewer decides to watch on a different device or browser.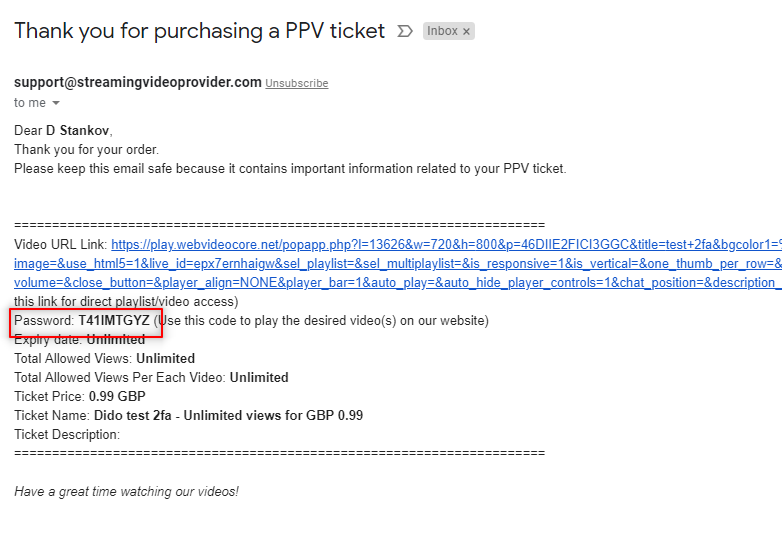 Changing the device or browser requires 2FA. Now, imagine your viewer decides to watch your PPV videos on another device—their smartphone. With two-factor authentication enabled, they will have to authorize that device. First, they have to enter their PPV password and then they will receive an email with a 2FA auth code. When they enter the 2FA auth code, the smartphone will be authorized and the viewer can start watching.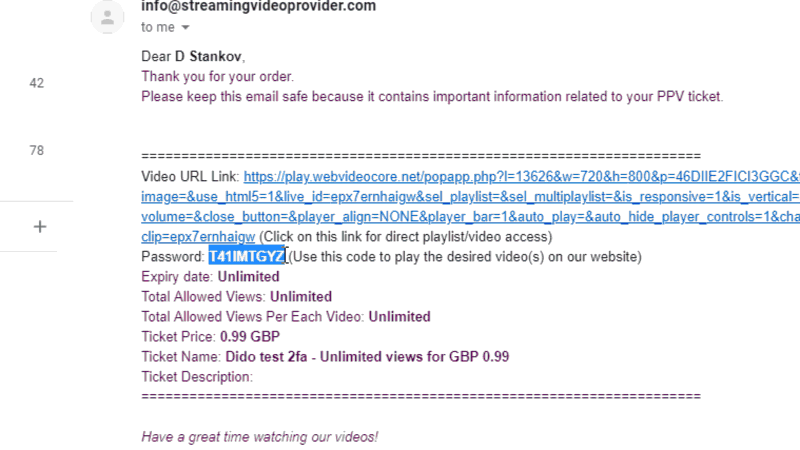 There can only be one authorized device or browser. For example, if the viewer originally purchased the PPV ticket on their desktop computer, it will be the authorized device. When they switch to their smartphone, it becomes the authorized device. They will no longer be able to watch on the desktop computer.
We chose this flow to balance between great customer experience and security. You don't risk annoying your customers, you give them instant access, and, at the same time, you protect your content from ticket sharing.
How Does 2FA Prevent PPV Ticket Sharing?
Imagine you are selling an online video course that costs $1,500. A group of 5 friends decide to split the cost of one PPV ticket and use the same account. However, with 2FA, there can only be one authorized device. This means that when one of them is watching, everyone else is locked out.
Even if all of these people use the same IP address, they still won't be able to share a PPV ticket because we don't allow two different browsers to access your content from the same IP address.
In addition, they will need to create some sort of a schedule so that all of them can watch without interruptions and they will need to share the same email account so that they can all get the 2FA auth codes.
Now, imagine you are doing live training as part of your course (You can have PPV live streaming as well as PPV on-demand videos). For the reasons explained above, it will be impossible for the entire group of friends watch your live stream at the same time.
How to enable two-factor authentication for your PPV videos and live streams?
STEP #1) Go to the Paywalls & Tickets section. Log in to the admin panel and go to Settings > Pay-Per-View > Paywalls & Tickets.



STEP #2) Select an existing ticket or create a new ticket.



STEP #3) Enable 2FA protection. If it's not turned on, toggle Prevent ticket sharing.



STEP #4) (Optional): Modify the confirmation email. If you want to customize the auth code email, click the gear icon next to Default 2-Factor Email Template.

That's it! Your PPV streams are now protected from ticket sharing.

Selling your online courses and live streams has never been that simple!
START FOR FREE NOW
More content security features to come
Video security is a top priority for us and we're constantly adding new features to protect your on-demand videos and live streams from pirates. Speaking of this, we'll soon be rolling out the Dynamic Watermarking function which safeguards your content against screen recording tools.