How To Make a Secure Video Subscription (Membership) Site Today
Let's be real. You're probably sitting on a gold mine of video and content. You have the product (A), and you know you have the consumers (B), but what you don't have is a way to connect A to B. Right?
Well, welcome to 2023, where you can easily create a subscription (membership) video website and compete with the big players. Move over Netflix and Hulu! You're not the only ones with skin in the game!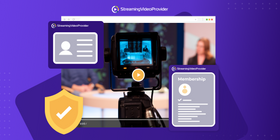 What do you need to build a video membership site on Wordpress?
You only need three things to set up a video membership site on Wordpress:
A Wordpress Website (obviously)

Almost everyone who creates any kind of content, has a Wordpress site of some form. So if you have one, great! You're off to a wonderful start. If not, no worries. It takes no more than an hour to set one up. You can create a hosted Wordpress site following these steps.

A Video Hosting Platform

You will quickly find out that uploading your videos to Wordpress is a bad, BAD idea. Your options for video hosting basically boil down to two solutions: (1) an all-purpose cloud storage service or (2) an online video platform (specialized video cloud storage). We'll review these below.

A Payment Platform

Finally, you will need a way to accept payments. The sweetest part! If you're looking for recommendations, here's what we've found in our experience. We've noticed that our customers usually opt for one of these platforms: PayPal, 2Checkout, CCBill, Authorize.net. So, these should be good starting points in your search for a payment platform.
How much can you make with a video membership site?
There is only one way to answer this question; As much as your imagination will allow! Тhe subscription business model (SVOD) is one of the three key ways to monetize your video — SVOD, AVOD and TVOD. Its biggest benefit is that it gives you recurring revenue!
Let's do the math. Pretend that you've decided to post your Dancing Baby videos to YouTube and chose to earn your money via ads. We'll assume that you're getting a whopping 20K views per day and a reasonable 50% click-through rate.
That should amount to a lot of money, right? Well, you stand to make about $1,425 every month. Oh, and also, these are your earnings before YouTube takes their cut which is... almost HALF of your money. You'll get $713. Ouch!
Now, if you chose instead to use a subscription website to show the world those cute babies, you would earn your money based on your number of subscribers. 100 subscribers a month paying a recurring price of $30 each? That's $3,000 per month, free and clear!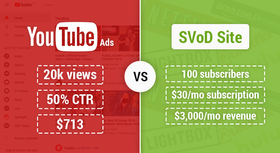 Best of all, you can expect your membership revenue to pile up quickly, too! One of our customers, a non-profit organization, has made $46,402 from a video subscription website in less than a year.
What's the best video hosting for membership sites?
Short answer: The choice is yours, of course, but, unless you're on a shoestring budget, the best video hosting for membership sites is a business video platform that allows you to collect payments and protects your content.
Long answer: There are two popular solutions for membership video hosting.
1) Amazon S3 - The cheap way
There are great Video CDNs out there such as Cloudflare and Amazon S3. They are powerful cloud storage platforms, but this doesn't mean they are great for a video subscription site. To make them work with your video subscription site, you would need to purchase video player plugins, payment plugins, and maybe even a theme. Before you know it, the workload has piled high while you're trying to manage and configure the dozens of components. You might be saving money but you're in for a big waste of time.
2) A Business Video Platform - The easy way
There is one simple reason to choose a business video platform to host your membership content—it's all done for you and ready to go. All you have to do is create an account and all the madness is handled from beginning to end. Simply upload your videos and you can start earning within minutes.
For example, StreamingVideoProvider comes with a video paywall to handle payments, video channel templates to avoid the need for professional design and military-grade video security features to safeguard your content.
For the rest of this tutorial we won't look into Amazon S3 because an online video platform is much easier to set up and manage.
How will you collect subscription video payments?
We already talked about the need for a payment platform but there is one more thing to consider. You need a video paywall solution—a way to collect subscription payments within the video player.
Now, here's the catch:
Some video platforms have a built-in paywall but most don't.
Take Wistia or Brightcove as an example. In order to handle payments with these platforms, you'll have to install a separate video subscription plugin like Cleeng. This means managing two separate systems and, potentially, facing a ton of security issues.
Some online video platforms like StreamingVideoProvider, however, come with a built-in paywall to process your subscription payments. Besides the ready-made integrations for some of the most popular payment platforms like PayPal and Authorize.net, StreamingVideoProvider also gives you the ability to connect custom payment gateways through the API. This spares you the of blood, sweat and tears as you try to put the pieces of your video membership site together.
So, here's a question to ask the sales reps when you're picking a business video platform for your Wordpress membership site:
"Does it have a built-in video paywall?"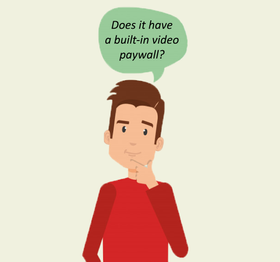 How much will it cost?
You'd be surprised to see how much different video platforms will charge you to create a video website. They offer subscriptions but then will throw in additional fees, plus take commission. Let's take Vimeo for example. They charge $99 for up to ten hours of video plus an additional fee of $1 per subscriber and, to top it all off, a 2.5% transaction fee.
Not to brag but StreamingVideoProvider gives you much more at a fraction of this price. You can upload hundreds of hours of VOD content. We accept payments directly on your site, process them right then and there, all without charging commission. You can try it for free to start out then pay a monthly fee that can be as low as $38.
Let's put this in context for you. Let's say you're selling a $50 subscription to your Cats All The Time video membership site. With StreamingVideoProvider, your video hosting fee is $38 and your web hosting costs about $10. You're only paying $48 per month while earning $50 per subscriber! If that's not a good deal, we don't know what would be.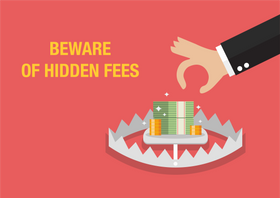 Alright! So you're now ready to get down to business!
How to make a video subscription website today
Here's how to make a video subscription website on Wordpress in 5 minutes or less.
Sign up for a free SVP account. No credit card is required. You can use all features for 14 days, completely free of charge.
Go to "Add media" and upload a video. You can upload any format and StreamingVideoProvider will auto-encode so it can be watched on any device. It will even generate a thumbnail for the video player.
Select your video and click the "Monetize" tab. Select "New Paywall".

Set up the price, change the ticket type to "Subscription" and decide how often you want to charge—monthly or yearly. Pick an easy-to-remember name for your paywall, e.g. "Monthly Subscription".
In the menu on the left, click "Payment Gateways". You can connect directly to Paypal, 2Checkout, CCBill, Authorize.net. Simply enter your details.
Go back to your media library, select your video, click the "Monetize" tab and point the paywall to your new subscription ticket, e.g. "Monthly Subscription".
Install Raw HTML WP Plugin on your Wordpress site It's free!
Copy embed code from your StreamingVideoProvider admin panel.
Create a new page in WP and paste the embed code.
Conclusion & What's Next?
Voilà! All done! You now have a video subscription site! No additional software, no themes, no unnecessary installations. Plus, you get secure video hosting. Your customers can purchase a subscription within the video player and start watching immediately. You get paid instantaneously with no delays, no hidden fees and of course, no commission.
Test out ALL StreamingVideoProvider features free for 14 days. You can upgrade to a premium account at any time if you wish.