Event Ticketing Software: The Best of the Bunch Compared
As people spend more time at home, being able to sell online access to your events is more important now than ever. Recently, we have seen huge improvements in relation to online storage capacity and internet speed, opening many new possibilities up to those wishing to broadcast events online.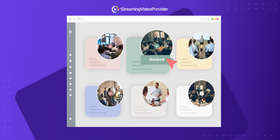 This makes 2023 a perfect time to broadcast your event online and allows you to sell tickets safely and securely while giving your viewers full control over their viewing experience. With this in mind, we will be covering the best event ticketing software that provides the ability to not only sell tickets, but to sell tickets for an online or virtual event.
What is event ticketing software?
Event ticketing software allows you to sell digital access to your events via live streaming or VOD. This can be achieved with recurring subscriptions similar to sites like Netflix or by charging a one-off fee to view the content (Pay Per View).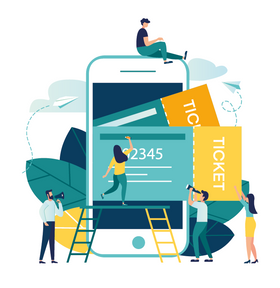 The flexibility of most providers in regard to payment is great for those either looking to sell access to a one-off event or granting access to a library of content.
How safe is it to sell online event access?
This is a valid question that many ask when venturing into the realm of online ticket sales. Most ticket software is very secure by default, but many people have valid concerns about their customers sharing tickets. After all, nobody likes losing money!
Many live streaming platforms deal with this by implementing various security measures such as domain and GEO restrictions, but the 'holy grail' of security and authentication is something called 2FA (two-factor authentication).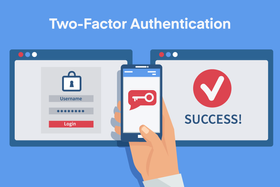 This ensures that only one instance of the broadcast can be viewed at once completely solving the problem of ticket sharing. It also ensures the only people viewing the content are those that have paid for access - sounds fair, right?
Here are some recommended security features to look out for when choosing your service
2FA (two-factor authentication)
GEO restrictions
IP restrictions
Access codes
Domain Restriction
The top 5 ticketing software solutions
For a lot of you that are looking to choose the best ticketing software to sell event access, it largely comes down to which features are most important to you and your event. However, here we are taking an 'all things considered' approach to try and cover as many bases as possible; to ensure you get an all-encompassing and affordable solution with a wide range of features.



Broadcast Your Event




✔




X




✔




X




X




Fees




No Fees




Upon request




10%

$1.68 Per Managed User + $0.29 + 2.9% Per ticket sold

Free tickets - $0

Paid Tickets - 2% + $0.79 (Region Dependent)




Anti-Piracy

Domain Restriction, IP & GEO restrictions, 2FA, Password Protection

Access Codes, Password Protection




Domain restriction

Password Protection, GEO restrictions




Access codes

Branding and Customisation




✔




✔




✔




✔




✔




Social Media Integration




✔




✔




✔




✔




✔

Analytics

✔

✔

✔

✔

✔

Pricing

From $38/mo

Upon request

$75/mo*





From $99/mo

Upon request
*Annual Billing
If you are looking for a full feature-set with the ability to stream directory from your provider then look no further than StreamingVideoProvider. Our completely customizable platform gives you the tools to integrate both live streaming and VOD access, while tailoring the video player to fit your brand.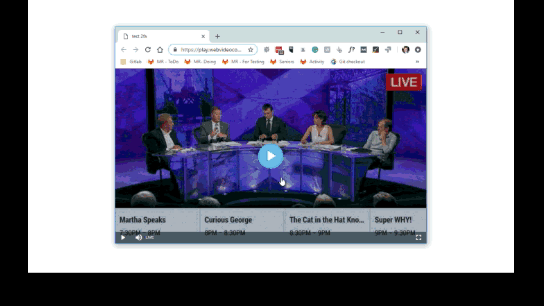 In terms of the streaming component, we offer a comprehensive solution featuring registration tools and 2FA (two-factor authentication) to prevent online ticket sharing. At the same time, we handle streams from a wide variety of streaming equipment including DSLR and dedicated streaming hardware.
Another attractive feature of our service is that we charge no fees on the sale of your tickets. Much like Cleeng, StreamingVideoProvider offers the ability to sell rental, subscription and one off PPV access which is ideal for nearly any situation.
Other providers may have more of a focus on marketing and event planning, but with the services that we offer at StreamingVideoProvider, we pride ourselves on being able to do everything from beginning to end when it comes to creating an event and integrating it on your event website for sale.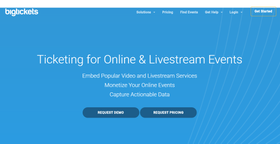 BigTickets offer an event management platform and event booking software with a comprehensive feature-set ranging from marketing, cashflow, and analytics features to ticketing for online and live streaming events. The service easily integrates with many marketing tools such as Mailchimp and Salesforce as well as providing social media integration with Facebook, Twitter and more.
What makes this event ticketing provider stand out is powerful features such as deep reporting, reserved seating and marketing tools.
Despite all of these positives, the service seems to be more catered towards marketing, event planning and project management as there is not any direct support for live streaming. Additional features seem to be coming soon so that may change, but, as it stands currently, this platform is lacking when it comes to event streaming functionality.
Even though this is a big limitation, this ticketing software can be used in conjunction with services such as YouTube and Twitch. If you don't necessarily need a secure and integrated live streaming solution for online events, this may be a fair trade-off.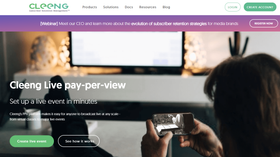 Cleeng's live pay-per-view solution provides the ability for users to set up a live event quickly and easily. Sporting international payment options in addition to real-time analytics, Cleeng allows you to offer subscription-based packages as well as one-off PPV content and even rentals to your users. This is great if you plan on offering a variety of content types and payment options to returning and new customers alike.
For those concerned about sharing and piracy protection, Cleeng provides GEO-restriction options in addition to IP analysis to reduce the likelihood of users sharing your content. Similar to BigTickets though, Cleeng doesn't provide the ability to directly live-stream from their platform and only acts as a gateway to manage your event page and electronic ticket sales. The platform relies on you to find a video provider to stream your event.
In terms of fees per ticket sold, you are looking at $1.68 per managed user + $0.29 + 2.9% per ticket sold so you will want to think carefully about how that impacts your budget.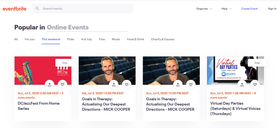 EventBrite is event management software and a ticketing platform that allows you to organise and plan your events in detail while offering widgets that can be integrated onto your website to sell event tickets easily. They allow integration with all major social media websites and provide mobile apps for customers looking to buy an e-ticket securely and conveniently to one of your events.
Sadly, EventBrite does not offer the ability to stream your content directly from their service and again relies on external services such as Twitch and YouTube to provide the ability to stream content. This might be acceptable for some, but, if you want full control over your content, you may want to explore other options.
EventBrite can be the right ticket selling software for free events due to their no fee policy for free events. However, if you are selling your tickets, there are fees to take into consideration which do change depending on your region. This ranges from 2% + $0.79 per sold ticket in the US (from the Essential Package) to 3.5% + £0.49 per sold ticket in the UK.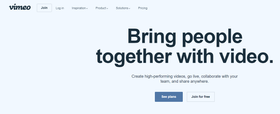 While a lot of the previously mentioned solutions offer a ton of marketing and event registration features but lack the live-streaming component, Vimeo is somewhat the opposite. This ticketing system is focusing primarily on the ability to live stream and sell access with a secondary emphasis on marketing.
That is not to say that Vimeo does not offer marketing features for event organizers. Through their various packages, they offer analytics and engagement data in addition to being able to generate custom reports as well as many social integration options.
In terms of fees for digital ticket sales, Vimeo charges up to a hefty 10% per transaction. This generally means that you'll need to inflate your ticket price by 10% to compensate or part with some of your profits. Also, when using certain Vimeo packages, payments to bank accounts in currencies other than USD are charged a 2% conversion fee which can be problematic for those looking to keep fees and additional charges to a minimum.

Whether you're organizing in-person events, virtual events, or hybrid events, EventSprout is worth a look.
For in-person events, there's a good attendance tracking system that allows you to scan tickets and monitor attendance, even if your event location doesn't have internet access. That's a huge plus for situations where internet access is not available or circumstances where internet access is limited or not working well. EventSprout isn't just limited to in-person events, by the way. They have live streaming capabilities for online events and hybrid events as well as integration with Zoom.
With EventSprout, you can create an event landing page for event registration, market your event, sell tickets online or in-person, track event attendees, and access detailed event analytics.
How to choose the right ticketing software?
Making the right choice when it comes to picking a provider depends on how frequently you want to sell online access to live events and which purchase options you want to offer your viewers. It also depends on what streaming encoders you use for your event. If you are looking to use a hardware encoder such as the EzeCaster Pro for either a sporting event or a media event due to its small size, that will require custom RTMP support and you will want to choose a service that allows that.
It is also essential to look at security in addition to pricing and fees. Two-factor authentication stops users from sharing access codes potentially costing you revenue and it does not have to cost you an arm and a leg either, as can be seen in the pricing of StreamingVideoProvider's packages.
Look to balance money and time savings with functionality
You will want to choose a ticketing software company that doesn't hit you with too many fees per ticket sold. Also, keep an eye open for pricing that is only offered via an annual payment option – these can prove to be quite an investment.
Having a ticket registration system that is intuitive and easy to use is crucial too as you don't want to spend hours and hours learning the program you choose before you even get around to selling any tickets. Having a comprehensive support and utility help section can save you a ton of time so make sure that the provider you choose has a large database for support queries and tutorials ideally including step-by-step videos.
Conclusion
In conclusion, a lot of top electronic ticketing software applications focus on the event management and planning side of things. This is great and very useful, but you must keep in mind that not all offer the ability to stream directly which greatly impacts the control you have over the whole process of selling event access online.
Many providers of event registration and ticketing software will allow you to pre-sell event access before it starts so this is an important feature to look for. In addition, video streaming is becoming a must-have for online ticketing software since it enables you to manage your entire event life cycle on a single platform. That's why choosing an all-encompassing solution will give you peace of mind without the need to rely on third-party providers and abide by their respective terms of service.
In the end, when looking for the best ticket selling software, you really need to look at which feature-set best matches your requirements based on the types of events you will be broadcasting and the type of equipment you will be using. If you would like to know more about some of the terms used above to describe event ticketing software, please check out the below links.


Start Selling Tickets For Your Live Event
Try It Now