[2023 Update] The Top 7 Church Streaming Services - Free & Paid
You've been chosen to spread the word and, as it turns out, the best way to do that in today's digital age is by streaming live church services. Unfortunately, the technical side can be a bit overwhelming. We've covered the basics of church live streaming and choosing the best camera for church streaming before and, today, we'll dive a bit deeper. We're going to give you a break down of the best church streaming services around.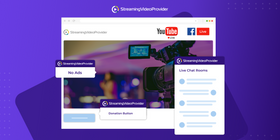 The Best FREE Church Streaming Services
Free church live streaming services are the epitome of "there is no free lunch". There aren't too many services that allow you to produce a decent church live stream for free and those that do come with certain strings attached. However, if you are just starting out and you can't afford a professional church live streaming service, a free option might be what you need.
1. YouTube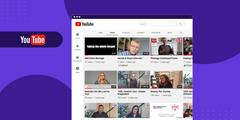 Live streaming with YouTube has become increasingly simple over the years. With its ability to reach the masses, a church live stream via YouTube is a viable free option.
PROS:
Easily searchable in all search engines
Simple to set up
Available to viewers without needing account
Viewer analytics
CONS:
4-hour live broadcasting limit
Potential copyright issues for music
Inability to schedule streams
Blocked by many institutions Ads distracting viewers No way to accept donations
2. Facebook
Live Streaming with Facebook is undoubtedly the most popular free live streaming platform with 78% of online audiences tuning in. However, just like YouTube, popularity does not exempt it from serious flaws.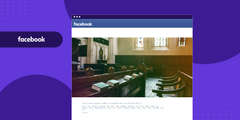 PROS:
Potential for massive following
Simple to set up
CONS:
Facebook videos don't pop up in search engines
Potential copyright issues for music
Inability to accept donations
No analytics
Facebook gets to utilize your streamed content however they see fit
The Best Professional Church Streaming Services
When you want to extend your house of worship to believers outside of your congregation, you may want to consider a professional (paid) live streaming platform. They overcome the downsides of free church broadcasting sites, while, at the same time, offering additional features such as sermon recording, online donations, ad-free streaming.
1. StreamingVideoProvider
StreamingVideoProvider is one of the least expensive yet fully equipped streaming platforms available. With seemingly endless features, StreamingVideoProvider caters to ministries that want high-quality broadcasting on a non-profit budget. These features include scheduled streaming, live chatting, sermon archives, cloud recording and so much more. Couple that with outstanding customer support and StreamingVideoProvider is certainly in the "best value for money" category when it comes to live video streaming for churches.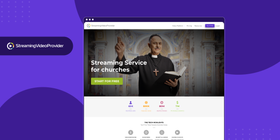 **HIGHLIGHTS**
Optimal viewer experiences:

No ads
Live chat rooms
Recorded streams
Donation button

Super easy setup with minimal maintenance:

Pre-scheduling
Powerful analytics
Free customer service on all plans + free installation support
One-click to post to social media or embed on your website
Stream to YouTube, Facebook and your website at the same time (multistreaming)
The low cost adds to StreamingVideoProvider's charm (Only $105/mo.) but doesn't take away from its high-quality features and availability.
2. BoxCast
BoxCast does a great job giving you and the faithful high-quality streaming options at a decent price. While they have plenty of features, they aren't exactly unique and locking you into an annual commitment keeps them from being the best option when you are on a limited church budget.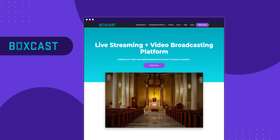 **HIGHLIGHTS**
BoxCast is another provider that does not slack on the quality of service and features.
Even though it excludes the same features as DaCast, the features that are left keep both the streamer and the viewer's experience in mind:

No ads
Pre-scheduling
Recorded streams

BoxCast is not incredibly expensive, at $119 per month, given the number of features offered and the quality of their technical support. However, their annual commitment seems unfair and bars you from pursuing any other options.
3. SermonCast
SermonCast is a well known live church broadcasting option popularly used for audio sharing (when using their free plan of 2GB). However, when choosing SermonCast as a live video streaming platform, considering their payment options is a large factor. You pay based on bandwidth usage which means your monthly bill can fluctuate greatly if you aren't careful.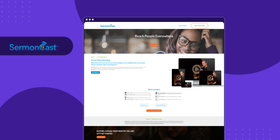 **HIGHLIGHTS**
Like StreamingChurch.TV, SermonCast is also a simple streaming media provider that doesn't offer too many unique features:

No ads
Archived footage
Social media integration

Again, on the plus side, the simplicity that is offered makes setup and maintenance easy.
SermonCast's prices start at $29 per month, however, this price goes up depending on how much bandwidth you use. This creates unnecessary uncertainty because it means that your bill might be anywhere between $29 and a few hundred. There is also a $50 activation fee.
4. DaCast
Like StreamingVideoProvider, DaCast offers some top-of-the-line features to bring you the best streaming experience in general. White labeling, powerful analytics, and auto-archiving are just a few of the capabilities DaCast has to offer. Unfortunately, you are locked into a 3-month commitment as a part of their premium plan and they don't include an integrated live chat feature or ability to set up online giving. While these features might not be necessary for other types of broadcasting, they are quite important for church live streaming.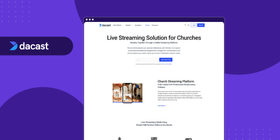 **HIGHLIGHTS**
DaCast is a more advanced platform when compared to SermonCast and StreamingChruch.TV.
While the features it provides are necessary, it misses the opportunity to go above and beyond because it's missing live chat and donation options.
Costing $165 per month, the price seems reasonable for what is offered. Locking you into a 3 month commitment isn't ideal, but you may find it tolerable in case you are content with the features included.
5. StreamingChurch.TV
StreamingChurch.TV is a simple platform that does away with all the bells and whistles, giving you the basic necessities of streaming. With features like customizability, embedding options and bottom line analytics, it's a suitable option for those who want plain, quick and easy streaming. However, they have a hidden activation fee tacked on to their already pricey premium plan.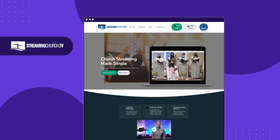 **HIGHLIGHTS**
StreamingChurch.TV is a basic provider option that gives you simple features and easy setup.
This platform offers a simplified viewer experience:

Live chat
Social media integration

Its simplicity allows for a more independent setup in which you are less likely to need technical support.
StreamingChurch.TV might be a little too expensive. Costing $127 per month, plus a $79 activation fee, the price doesn't seem to match the simple interface and features.
Compare The Top Live Streaming Services For Church
StreamingVideoProvider
BoxCast
SermonCast
DaCast
StreamingChurch
Pre-schedule live stream
Cloud recording
Live chat
Embed on A Website
"Donate" button
Social Media Integration
Ad-free
Sermon archive
Real-Time Analytics
Installation Support
Price
$105/mo.
$119/mo.
*Annual commitment
Starts at $29/mo.+$50 activation fee
$165/mo.
*3-month commitment
$127/mo. + $79 activation fee
Checklist: How To Choose the Right Streaming Provider for your Church
Now that you have a bit more knowledge on the different streaming video providers, you can now choose which is suitable for your sanctuary. To make your decision easier, we prepared a checklist for you:
1. Budget
You want a provider that can keep costs low without sacrificing quality. Having a fixed rate with no hidden fees will help you stay within your budget and avoid costly surprises. Pay attention to the bandwidth limitations and talk to a salesperson to pinpoint the right plan for you.
2. Ads or no ads?
Ads often distract your viewers from your content. If you think you can put up with an ad-supported service like YouTube, then you may enjoy the fact that it's free. If you want your message to be heard, though, we'd recommend signing up for one of the professional live streaming platforms we reviewed above.
3. Donations
It's a good idea to look for this feature when choosing your provider because more than half of the faithful prefer to give online. So, having a digital collection plate can prove to be a significant revenue stream for your church.
4. Video recording of church services
Archiving your streams to be viewed later can be extremely important in reaching more believers and expanding your congregation. If a parishioner misses the Sunday service or simply needs a spiritual reminder, he or she can tune in and experience worship at any time.
5. Live church service pre-scheduling
Pre-scheduling allows you to focus on your sermons rather than getting your live stream up every Sunday. Instead, you can, for example, schedule your streaming to begin every Sunday at 9 am sharp. Set it and forget it.
6. Multistreaming
These days, believers can be on various social media channels. To reach more of them, it's essential to find a service that offers multistreaming. For more information, see our guides on how to multistream and multistreaming platforms or watch the video below.
Conclusion: The Best Live Streaming Service For Churches
The last thing anyone would want is for their live church streaming provider to fall short of their expectations. We hope the chart above helps you make a better, more informed decision about your church live streaming provider.
In our experience, church sanctuaries need at least a service that:
once configured, requires minimal work
stores church service recordings securely in the cloud,
allows parishioners to donate online, within the video player
This is what we've learned while serving hundreds of churches. Through the years, we have honed the above and many other features to make sure that StreamingVideoProvider is the easiest and most powerful church live streaming provider. You don't have to take our word for it. Just go ahead, try it out for 15 days and see for yourself.
Further Reading