Meet The New Sleek Player And The Advanced Web TV Scheduler

Beautiful on the outside, powerful on the inside. We're always looking to strike a balance between looks and functionality when developing new StreamingVideoProvider features. And this update has some of both.
#1 Tweak Your Video Player To Perfection
We've added several options that give you greater control over player appearance and functionality. To try them out, navigate to ⚙️ Settings > Player & Playlist Templates. Edit a single player template or create a new one.
Sleek Player Look
Yes, we actually called the setting "Sleek Player Look" because, well, that's the best way to describe it☺️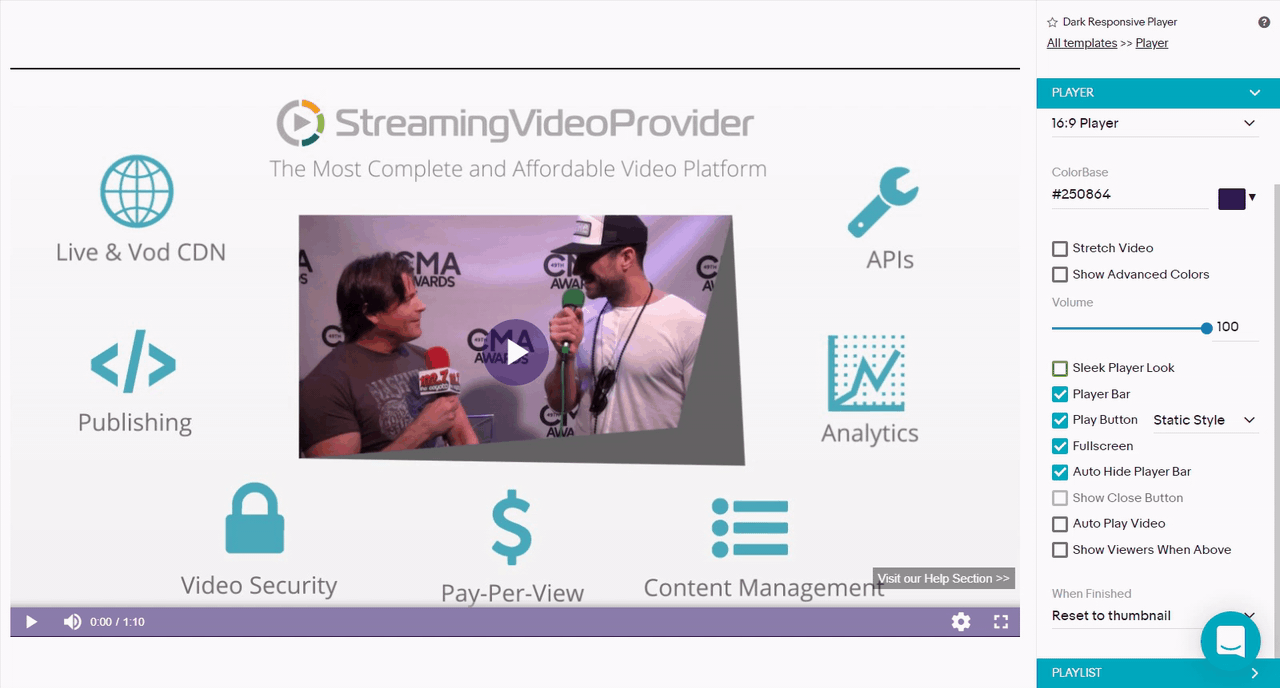 On/Off/Pulsing Play Button
This is exactly what it sounds. You can turn the ▶Play button on or off and you can use the new pulsing style to make it more click-worthy.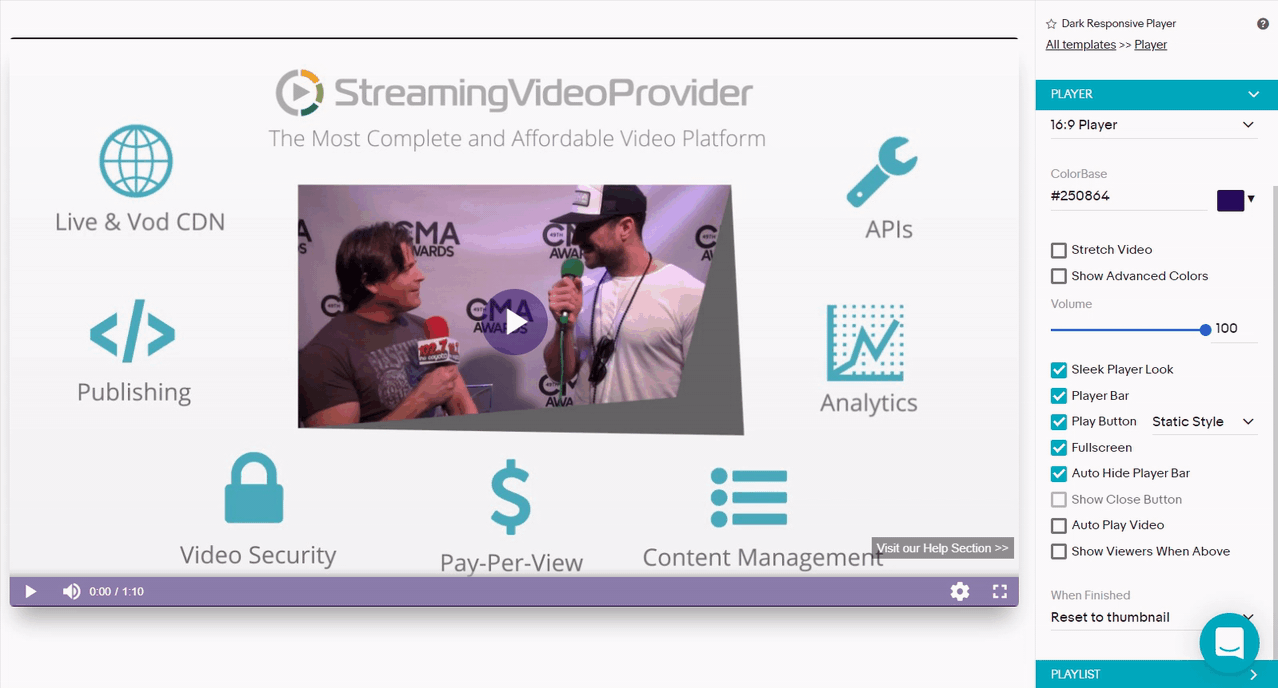 Default Volume Level & Auto Play
You can now control the default sound volume. If, for example, you reduce the volume down to zero, the video will start muted by default.
Combine this with the Auto Play option, and you've got a Facebook/Instagram-like experience. The videos using this template will start playing automatically, without sound, as soon as the page is loaded.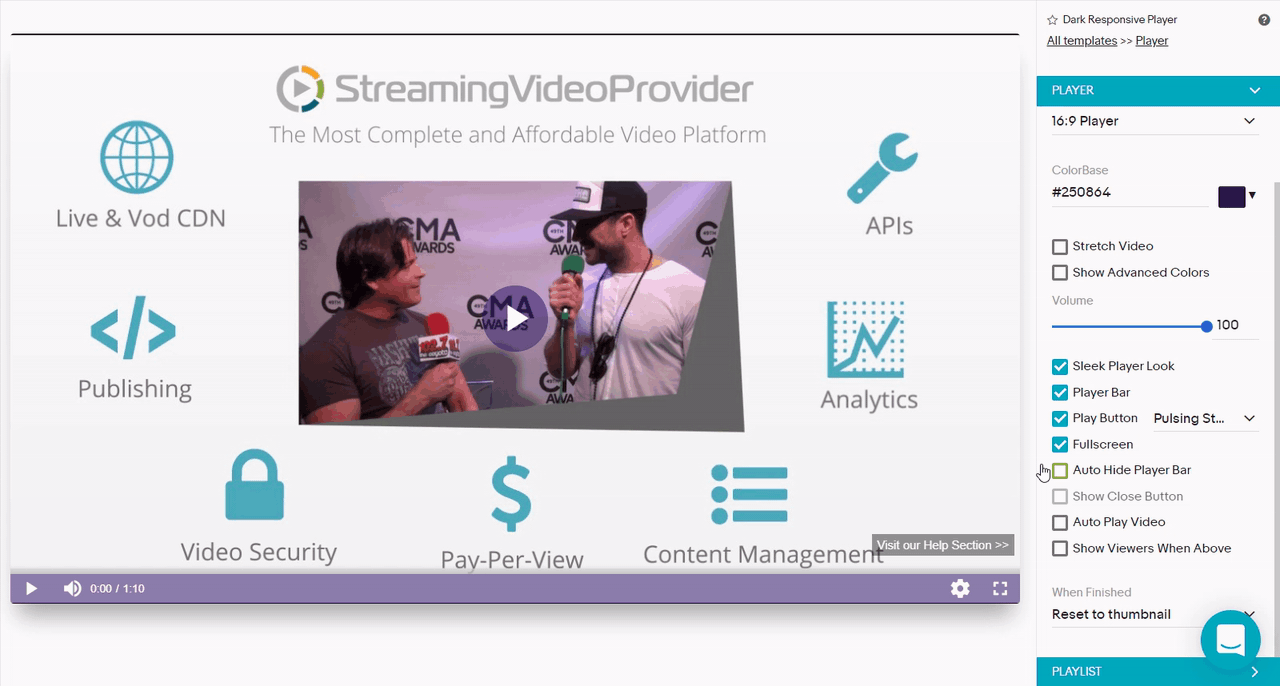 Your viewers, of course, will be able to unmute the video using the dedicated button at the top right of the player. They can also adjust sound volume as usual with the player controls.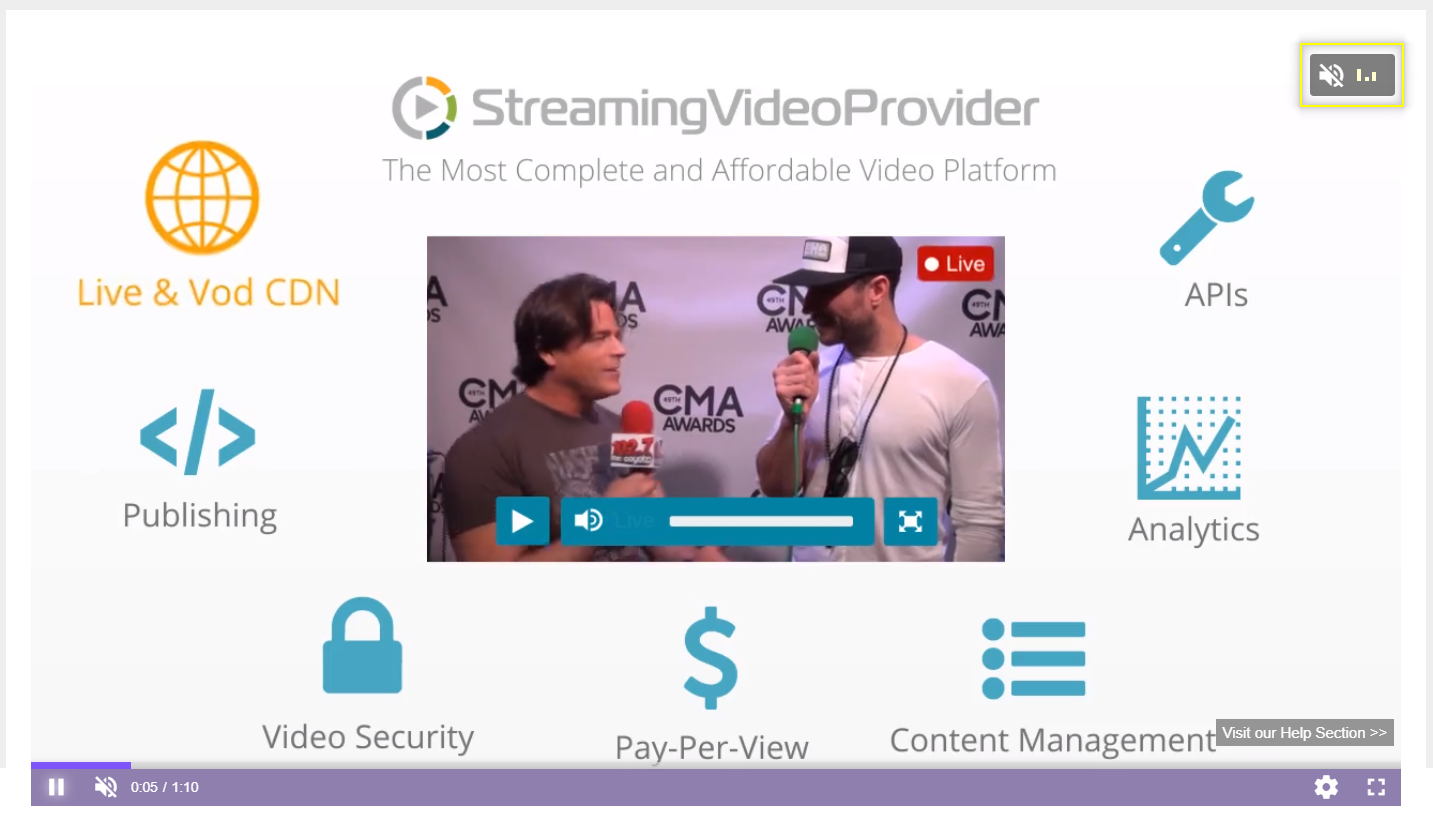 #2 Create Any Web TV Schedule You Want
With the all-new Web TV scheduler, you'll be able to control your online TV schedule to the smallest detail.
Start playing a specific web TV playlist at a specific date and time in the future. Great if you're planning an online event such as a webinar.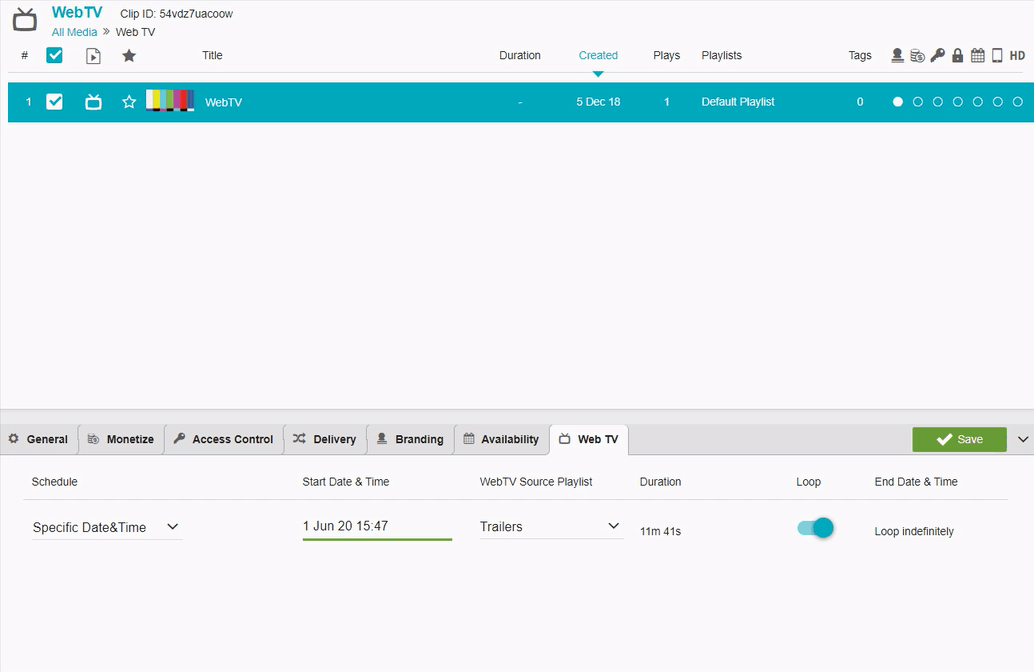 Play the same playlist daily, starting at a specific time. Very helpful when you want to engage your audience every day, e.g. with a morning workout.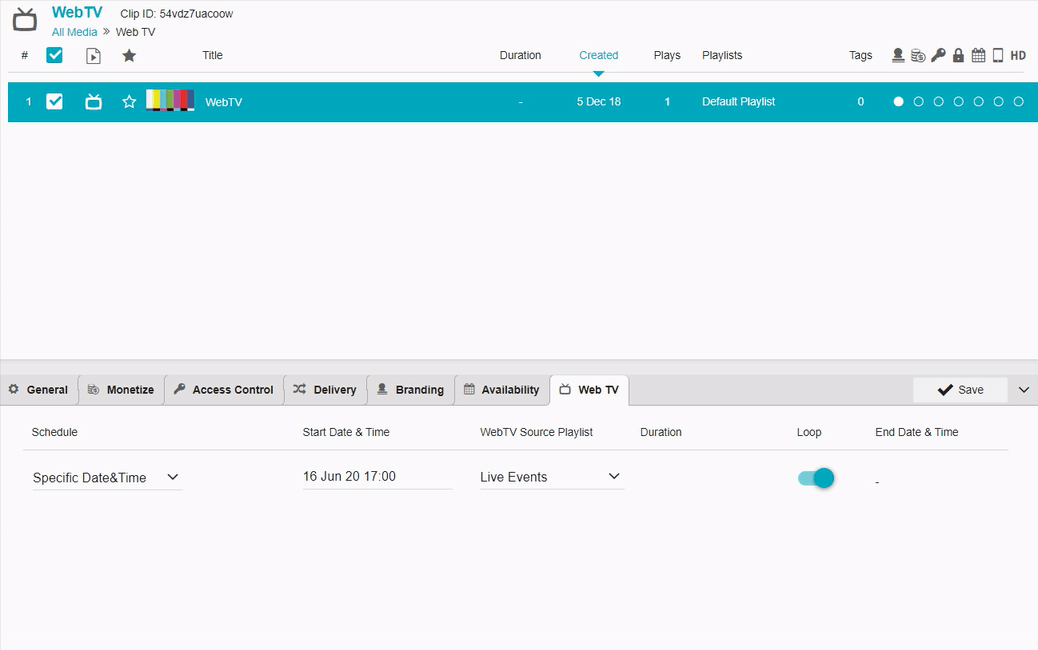 Set a weekly schedule with a different playlist for each day of the week. This is a great option if viewers will tune in on specific days of the week, e.g. when you're streaming church services, or when you want to broadcast different content each day.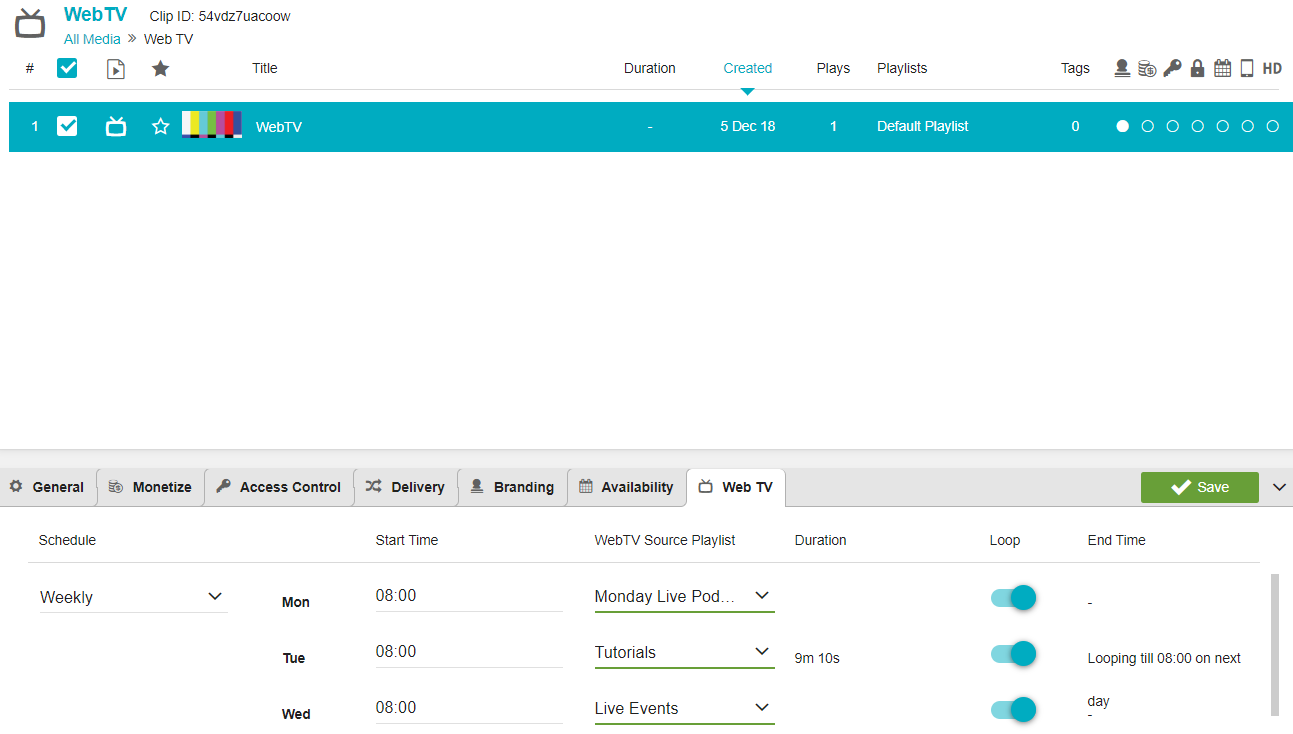 Set a monthly schedule with a different playlist for each day of the month. This option is perfect for online TV channels that have prepared a lot of content in advance and want to create a full-blown schedule.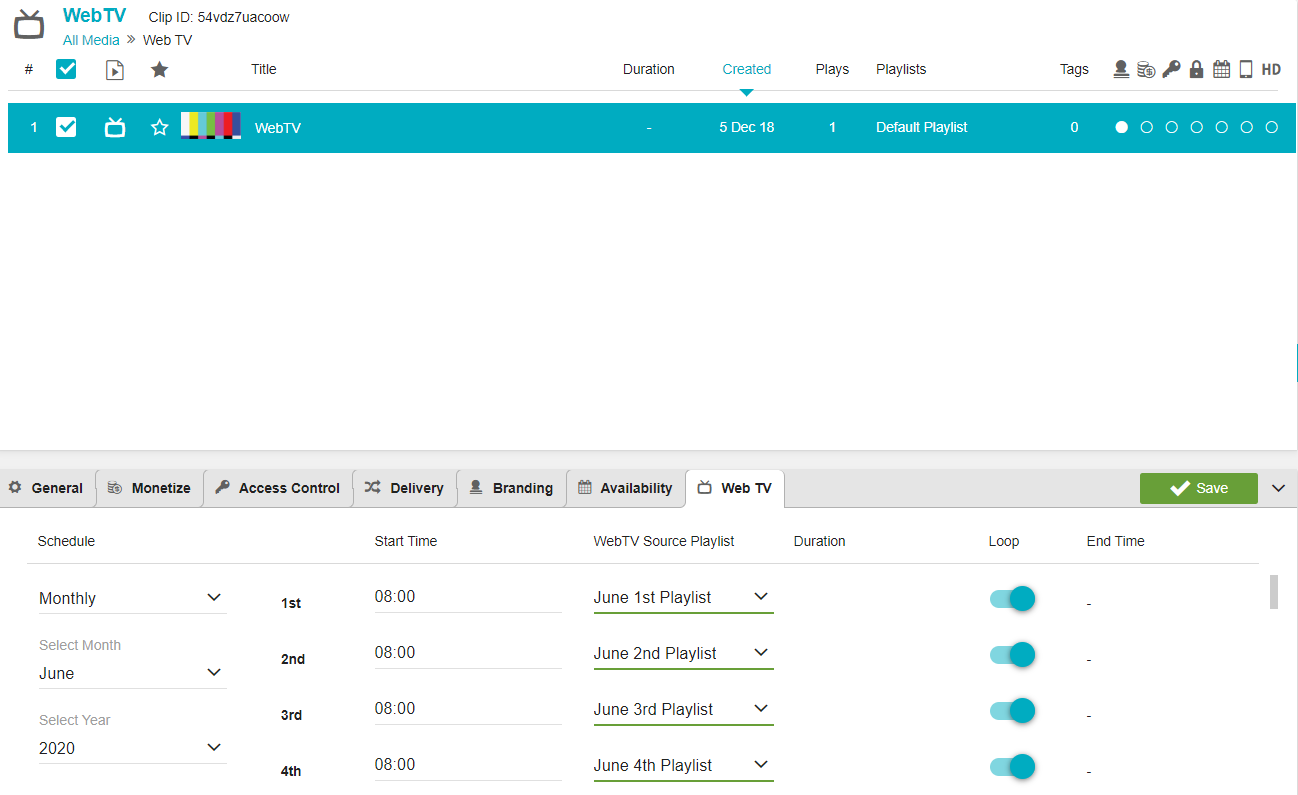 The Loop toggle does exactly what you'd expect it to do—it makes your playlist loop forever.
Other Improvements
Added sorting by Media type and Favorite in Playlists. When users sort by Media type, live media (IP cameras, live streams, web TV) is always at the top, followed by recordings listed from latest to oldest.
Added Chat control button at the top of the panel for VOD and Audio media files so administrators can easily access chat settings.
Viewers can now search by tags in the Playlist Player.
Packages (password, PPV, etc.) are now listed starting from the latest ones for easy finding.
Analytics now show the exact date and time when media was played.
"Plays" column is added to the Sold Tickets Management screen to help track the number of plays per PPV ticket.
Text Localization now allows you to change the text shown in the Player + Playlist type of widgets.
Added all existing PayPal domains in Payment Gateways > PayPal.
Added support for Swedish language in subtitles.
Dropping the webcam module in Live Studio. OBS is now the recommended RTMP encoder software for Win, Mac and Linux
Bug Fixes
Viewers who are using the latest iOS or browsers with enabled "Prevent Cross-Site Tracking" are now given access to your PPV content right after the purchase vs. before when they had to wait for the confirmation email and click on the provided link.
Fixed error when a checkbox was used in forms.
Long localization text was breaking the layout of the PPV paywall.
Fixed issue with uppercase letters in file extensions for the remote uploader.
Fixed HTML code for Email Publishing.
Full URL was needed by some browsers when using the Embedded Uploader.
Sometimes Copy to Clipboard buttons were not working without Flash.
Fixed search functionality.
Behind The Scenes: What's Next?
Separate team sub-accounts that will consume shared resources from the main account.
Even more advanced media scheduling options and a countdown timer.
White-label reseller panel that allows partners to rebrand our platform and become streaming video service providers without any CAPEX or OPEX.