Features > Video apps & playlists
Video Apps & Playlists
Do more with your videos! Engage with your viewers, monetize or password protect your content - whatever you need.... we have the right app for you.
Pay-Per-View Videos
Start making money today by charging your viewers to watch your videos.
In less than 10 minutes you can:
Upload & embed your videos on your site.
Create a paywall using our pay-per-view ticketing system. (just like the one on the left)
Get your viewers to pay you before they watch your videos or live broadcasts.
Password Protected Videos
Easy & simply way to password protect your video content.
If you desire further protection and peace of mind you can easily password protect single, group or all of your videos , so only users who you've sent the passwords to, can access your content.
Wait...That's not all. You can also set expiry period, total allowed usage, suspend individual passwords, see when and how they have been used etc., features that gives you full control.
Learn More »
Webcasts & Slideshows
Looking to create a synchronised, side by side video and power point slides presentation? Look now further because StreamingVideoProvider has this one covered. Simply upload your videos and presentation slides, set the timing for each slide and... voila. Your presentation slides will be in a perfect sync with the video playback.
Wait... that's now all. If you're doing live broadcasts, you can also push the presentation slides to your live audience, with a click of a button.
Know Your Audience
Having a live feedback from your audience is an essential part of each live event nowadays!
With StreamingVideoProvider you have all the tools and widgets under one roof and adding live chat box could't be simpler. With a click of a button, you can enable the live chat box and your viewers can either sign up with their Facebook or Twitter credentials or simply enter a nick name and start chatting with you.
User-Generated Content
Using the External Uploader, your users can upload videos directly from your website (just like in YouTube or any other content generated website) and those videos can appear in your video playlists and video apps.
You can embed both, the video app and the external upload, on your site so any uploaded video will arrive in your account and can be, either set to manual or auto publishing, before it appears in the video application.
To check out the whole process, use the external uploader above to upload a video. It will appear shortly in the playlist above.
Video Wall
The video wall is the ideal solution if you want to present many videos at once. Customising the video playlists, colors, element sizes, player skin etc.. is easy thanks to the VideoApps Studio.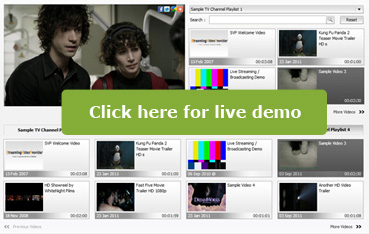 Video Apps with Multiple Playlists
Looking to organise your videos in categories, like an online tv channel?
Choose from wide range of video app templates to embed in your website, blog or social networks. Save time by adding and managing your playlists without the need to copy-paste the embed code every time you want to make any changes.
Call to Action
The VideoApps Studio has a powerful event engine, allowing you to display specific components such as "Call to Action" button based on specific conditions (at the end of the video, during playback, when paused etc..) making the entire experience interactive.
Play the video, then pause it to see the custom "Call to Action" button.
Agree to Watch
Using the event engine of the VideoApps Studio you can easily define custom requirements that your viewers need to meet before they are able to watch your videos or access the playlists.
In this example we have created a demo "Terms & Conditions" page. The user has to agree to the terms by clicking the button before the access is granted.
Easy to Create & Customize
Creating video applications for your website, blog or social media has never been simpler. Thanks to the VideoApps Studio you can now interactively design your own video apps and publish them on the web. It takes less than 10 minutes and anyone can do it! Everything is done via your browser so there is nothing to install.
Learn More »
White-Label (Private) Branding
Add your own branding (overlay logo or text) on top of the actual video and make StreamingVideoProvider completely invisible. Why? This enables you to resell the service under your own brand to your clients without any investment in infrastructure or development. Ideal solution for web designers, developers, live event organisers ect. The embed code is also white-label meaning our domain is not shown.
Video Delivery
Deliver worldwide your pre-recorded (also called VoD) or live streaming HD content in the best possible way to any Flash or iOS enabled device. Thanks to our players and CDN infrastructure, you don't need to worry about different file formats, device detection or how it actually works, because it simply works.
Learn More »
Social Media Sharing
Reach new audiences by distributing your content on social media platforms like Facebook, Twitter, Wordpress etc. or encourage viewers to spread the word to their friends with sharing buttons directly in your players. Embed your videos on Facebook or post them on Twitter - one click is all it takes.
Domain, Geo and IP Protection
Prevent viewers to grab your embed codes and publish your videos on their own domains. You can simply specify a list of authorised domains and lock down your content that way. You can also secure your videos by applying Geo restrictions (city, region, country), block individual IP addresses or even limit the number of unique viewers allowed to stream your content within a specific range of time.
Learn More »
Subtitle Support
Adding subtitles to your pre-recorded (VoD) videos is easy. You can import the most common subtitle formats (src or sub) or create your own subtitles by specifying each line and the timing when to appear.
Flash, RTMP & HLS Delivery
Wide Range of Templates
Comprehensive Toolbox
White-Label Embed Options
Multi Project Support
Fully Interactive Experience
Remote Control
Nothing to Install
Seamless Integration
All Features