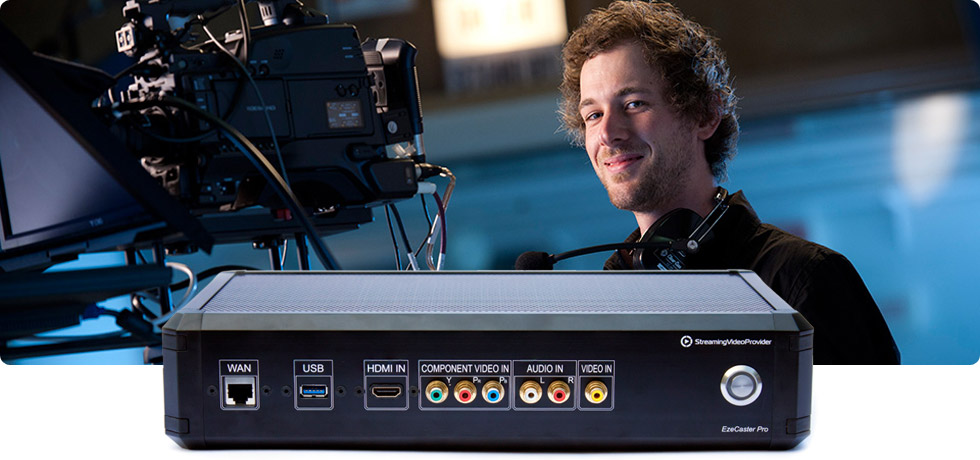 Professional HD Live Streaming Made Easy
Simply plug and stream live video to any device without a PC
The EzeCaster Pro is a stand-alone full HD live video encoder that accepts HDMI, RCA Component or Composite a/v signal from devices such as camcorders, visual mixers or other play-out equipment. Video broadcasters can now deliver Multi-bitrate HD live video streaming to Flash, iOS and Android devices using the
StreamingVideoProvider Cloud video delivery service. The EzeCaster Pro removes the need for a separate computer, encoding software and audio plug-ins making it an easy all in one solution which can be installed on site, taken along and even be deployed in remote locations.
Reach All Devices
Adaptive & Multi-Bitrate Streaming
The EzeCaster Pro can broadcast using Multi-bitrate streaming that improves your viewers experience by delivering your live stream with the resolution that matches their connection speed best. When you stream using Multi-bitrate the video player automatically selects the highest quality stream version that the viewers connection speed can stream at. It can even switch between resolutions automatically if there is a change in the viewers connection speed ensuring that they can view your live broadcasts at the highest quality possible.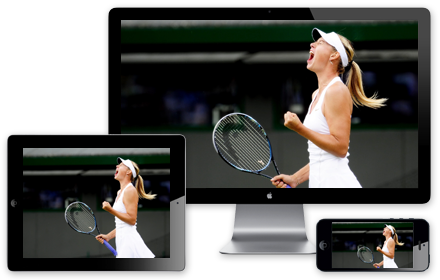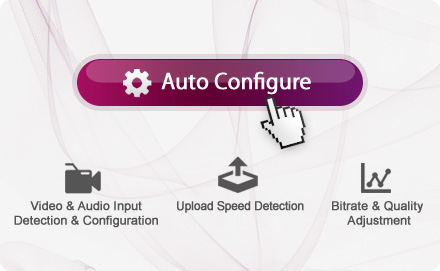 One Button Setup
With the push of a button you will be streaming live video in no time. It takes seconds to configure the device and anyone can do it! Simply connect the EzeCaster Pro to your router or WiFi network and plug in your input device such as a camera or a visual mixer. Then it's as simple as pressing the Auto Configuration button which will detect your available broadband speed and setup the EzeCaster Pro with the best settings so you can achieve the maximum possible video quality. It will also detect the current video and audio inputs so that you ready to broadcast. You can also manually overwrite the settings for fine control and even save different settings as templates for future use.
Crystal Clear 1080p HD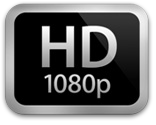 The EzeCaster Pro lets you stream beautiful full 1080p HD video to all compatible devices, ensuring that your audience gets the best viewing experience.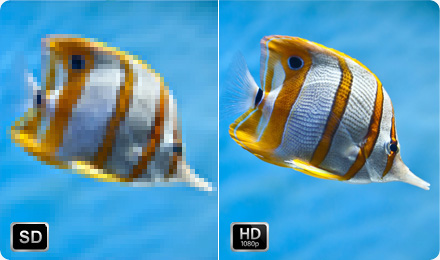 All-In-One
Complete Solution in One Place
Having not to worry about how to make hardware and software work together or figuring out how to make different solutions from separate vendors to talk to each other is a great relief that saves you time and money. StreamingVideoProvider's cloud video platform is seamlessly integrated with the EzeCaster Pro, so you can have the hardware device talking directly to the live video streaming platform from where your website video player can be watched by 1000's of concurrent viewers, from anywhere in the world. Whether you are a national tv broadcasters, radio station, live event / seminar organizers, meeting rooms, wedding , funeral, churches & faith organizations,
rest assure that this solution is the right one for you. We have spent years developing it from the ground up to ensure it is dead-easy and anyone, even without any technical knowledge can use it. The unique cloud features that are part of the All-In-One service such as: Monetization with Pay-Per-View, Password Protection, Security and Privacy, Domain, Geo and IP Restrictions as well as full Branding and Customisation options, makes StreamingVideoProvider the preferred choice for thousands of SMB and large companies worldwide including Council of Europe, WallStreet Systems, Microfocus and many others.

Remote Control
Control Everything from The Cloud
Control your EzeCaster Pro straight from your SVP panel. This gives you the ability to configure and manage the EzeCaster Pro from a remote location and be able to Start or Stop the device, reboot and change the configuration, even if you are thousands of miles away.

Record
Locally and on The Cloud
Save time and effort with StreamingVideoProvider's cloud recording feature. Your live events will be recorded and made available for your viewers to see on demand within minutes after the live event is over. No need to upload any recordings! For those who are running critical events and want to make sure they have a local backup in case the internet connection breaks during the event, they can connect any NTFS pre-formatted external USB hard drive to the built in USB 3.0 port of the EzeCaster Pro and record the Live HD Broadcasts locally as well. When you've finished recording you can easily mount your drive straight into a computer and use the local recordings for video editing, giving you the best of both worlds.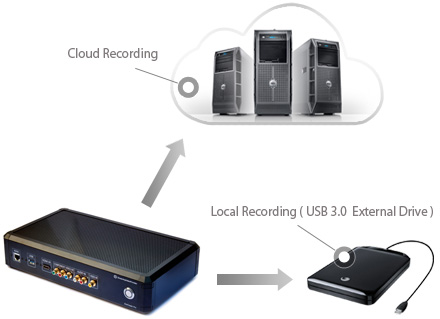 Professional Connections
To Suit All Your Requirements
The professional connections at the front include a HDMI input for crystal clear High Definition video and audio as well as easy setup. You also get more traditional connections such as HD Component Video, RCA Composite Video and Composite Audio inputs. Your networking needs are covered by providing you with a LAN wired network input for a rock solid connection as well as ability to connect wirelessly if no cable connection is available.
Technical Specifications
Color
Black

Price
Size and Weight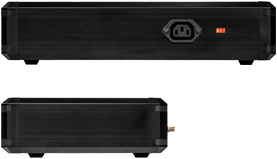 Height: 80 mm (3.12 inches)
Width: 350 mm (13.65 inches)
Depth: 200 mm (7.8 inches)
Weight: 2.5 kg (5.5 lbs)
Video Codec
High Profile H.264
Audio Codec
High Profile AAC
Inputs
HDMI Input - Supports HD 1080p/720p and SD 480p
HD Component Input - Supports HD 720p and SD 576i/486i
RCA Composite Input - Supports SD 576i and SD 486i
Composite Audio Input - Supports Dolby Stereo
Network
10/100 Mbps (Ethernet)
802.11 b/g/n 2.4Ghz (Wireless)

Streaming Features
Multibirate Streaming - Send 1 stream at full 1080p HD, another at 720p HD, and another at 480p * based on available uplink
Auto-Adjust Feature - Will adjust based on the available uplink for excellent viewer experience
Auto reconnect - in case of ISP failure
Streaming Resolutions
HD 1080p
1080p 30 - 1920x1080 FPS=30
1080p 29.97 – 1920x1080 FPS=29.97
1080p 25 – 1920x1080 FPS=25
1080p 24 – 1920x1080 FPS=24
1080p 23.976 – 1920x1080 FPS=23.976
HD 1080i
1080i 60 – 1920x1080 FPS=30
1080i 59.94 – 1920x1080 FPS=29.97
1080i 50 – 1920x1080 FPS=25
HD 720p
720p 60 – 1280x720 FPS=60
720p 59.94 – 1280x720 FPS=59.94
720p 50 – 1280x720 FPS=50
SD
486i – 720x486 FPS=29.97 NTSC
486i – 720x486 FPS=23.976 NTSC
576i – 720x576 FPS=25 PAL
Control
Fully controllable via the StreamingVideoProvider website
Remote Stop / Start broadcasting
Setup
No setup - Comes pre-configured to work with your account
Fully integrated to the StreamingVideoProvider website
No need to open router ports
In The Box
EzeCaster Pro
Quick Start Guide
Power Cord
Showcase
Recorded and Broadcasted Live with EzeCaster Pro at Streaming Media Europe 2013
Tutorial