Learn how to stream live video using Flash Media Live Encoder
Step 1) Download, install, and launch Flash Media Encoder


Using Flash Media Encoder (download here) you can capture audio/video from any device connected to your computer and broadcast it live using the StreamingVideoProvider platform. Please register and download the encoder.

Once you have installed Flash Media Encoder, connect your video source (e.g. webcam or hardware capture card) to the computer and launch Flash Media Encoder. Flash Media Encoder should automatically detect any video and audio devices connected to your computer.

---
Step 2) In your SVP Control panel click on [Broadcast Now] to open the Broadcast Panel -> Live Encoder Tab
Login to your SVP Control panel, find the new live video you have already created and click on Broadcast Now.
If you have not created a live player yet, please follow this link


Step 3) Copy the RTMP URL and RTMP Stream from the Broadcast Panel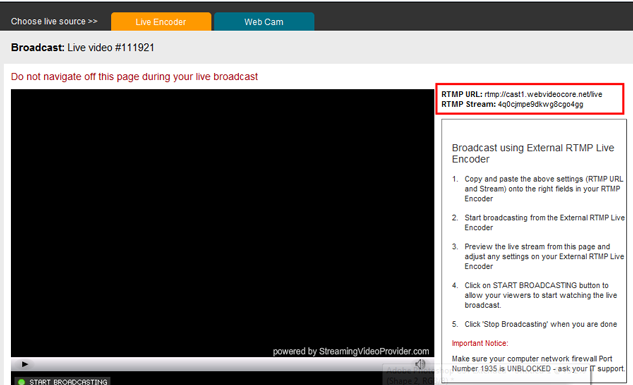 ---

Step 4) Paste the RTMP URL and RTMP Stream in your Flash Media Live Encoder (Section 3 - see below) and set up the rest of the settings
Recommended Settings for FMLE ( see also the snapshot below )
The Video "Format" must be set to H264 ( NOT VP6 ) ( section 1)
The "Bit Rate" must not exceed your upload speed. To find out what's your

upload speed click here
The Audio "Format" must be set to AAC or MP3 ( NOT NellyMoser ) (section 2) (For live streaming to iOS devices see section 4.1 below)
Auto Adjust must be enabled and Degrade Quality selected (section 3)

When ready press the green button START


Step 4.1.) For live iOS streaming make sure to have
H264 Main Profile with level 3 or higher or higher with 5 seconds keyframe
Audio codec must be AAC (not mp3 or NellyMoser) with sample rate 48000
By default FMLE for MAC OS comes with audio AAC codec. However the PC version doesn't so you will need to purchase a plugin for $180 from Mainconcept to stream successfully to iOS.
---
Step 5) In your SVP Control panel under [Broadcast Now] > Live Encoder Tab click on play to see the preview. Once you are ready to start broadcasting click on Start Broadcasting under the preview player.

Was this article helpful?