Add Video To Your Website in 3 Simple Steps
We offer affordable streaming video services that comes with everything you need in order to upload, encode, host, embed stream & sell your videos on your website.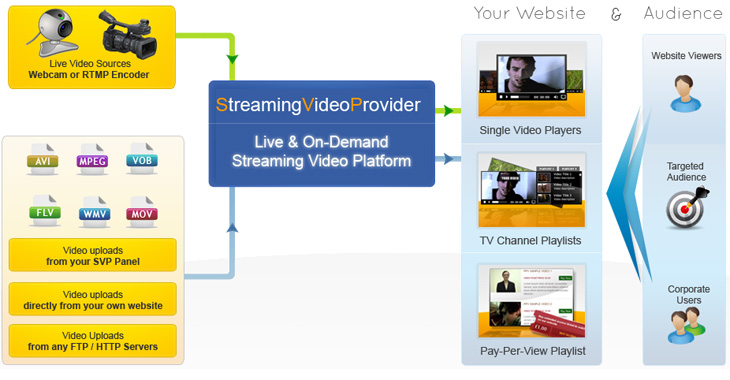 Step 1
Create Free & Instant Account
Sign up now for a Free Account and get instant access to all features of the SVP platform.
No credit card info required.
No long-term contracts, hidden charges or cancellation fees.
No strings attached.

Create Free Account
Step 2
Upload Videos or Live Stream
SVP platform enables you to upload or live stream your video content in less than 10 minutes.
Internal Uploaders - Upload your video content using our internal uploaders located in the SVP control panel
External Uploaders - Upload directly from your own website - Accept video uploads from your viewers or colleague.
FTP/HTTP Pull Uploaders - Setup auto-sync jobs(watch folders)or manually pull your video files located on your own FTP/HTTP server into your SVP control panel.
All major video formats are accepted
Free flash FLV encoding/transcoding
No video file size restrictions
No video length restrictions
Live video streaming & Live Broadcasting
We provide everything you need to start live streaming today!
Simply connect your webcam or setup your external Flash RTMP video encoder software/hardware, preview and embed the video player on your website and you are ready to go
Read More
Step 3
Publish & Stream Your Videos
Create White-label Video Players, TV Channels & PPV Playlists within seconds.
Pay-Per-View & Password Protected
No knowledge of HTML or programming skills is required to put videos on your site. Anyone can do it.