Video Uploading & Video Encoding
Free uploading & encoding service with large video file size and formats support.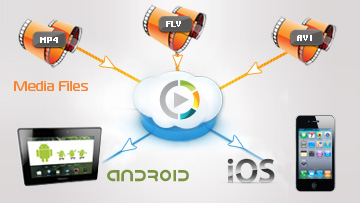 Upload Once > Reach All Devices
We provide hassle free and automated video encoding for your videos and we make them viewable not only by the traditional PCs but also by iPads/iPhones, Android devices and smart connected TVs. Our transcoding decision engine analyses each source file and determines the optimal output file required for high-quality delivery to any device.
One Encoded Version > For everyone to view
Instead of encoding your video to multiple file formats and bitrates that lead to higher storage consumption and cost, we've developed a proprietary solution that enables us to encode to one version which all devices can view.
All Major Video Formats Are Accepted
FLV, MOV, MP4, 3GP, M4V
M4A, F4V, AVI, MPG, MPEG, WMV
ASF, 3G2 and QT.
MP3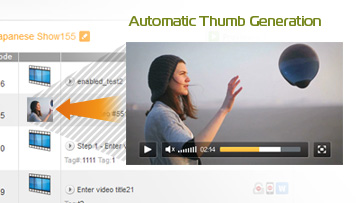 Automatic Thumb Generation
After your video has been encoded thumbnail images will be automatically generated. These thumbs are used in the video management panel and as splash images within the video players and playlists.
You can manage these images in the [Video Settings] under My Panel.