Content Management
StreamingVideoProvider provides a flexible and easy-to-use content management system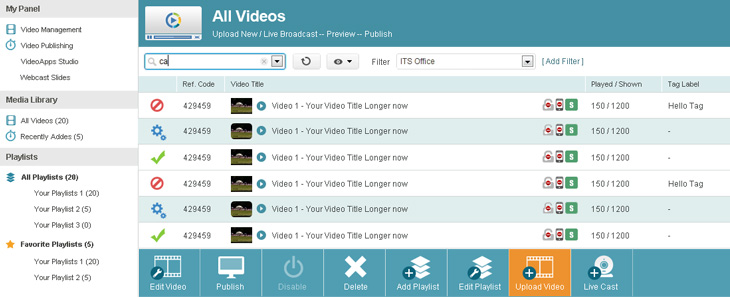 Browse & Organize your Videos
Goodbye, mess. Hello, productivity.
Upload your videos to your panel, and manage your library in new and better ways. Find your videos by name, tag, description or even by date. We give you an incredibly easy way to organize and manage a few or even thousands of videos in your panel by simply creating SmartFilters. What they do for your video library is practically magic by automatically displaying all of the videos containing the specified tags as if they were folders. No matter which way you browse, you will quickly find exactly what you want.
Playlist Automation
You can add video content manually or dynamic based on tags and other criteria, This works the same way as our SmartFilters. Never again stare blankly at your playlist wondering, "Now where are my new videos?" Default positioning allows you to add new videos to a specific place in your playlist.
You can even set up your new videos to inheriting previously configured pay-per-view options. Playlist automation removes tedious tasks.
Timed Schedule Control
Set manual or auto publishing with start & end schedule dates and times or choose to have your videos only available in daily and weekly time frames. This helps you publish your content exactly when you want it to be viewed by your audience.
Schedule live programme (sequence of video on demand files) to run as simulated live broadcast.
Dynamic Media Management
You can change the title, thumbnail image, description, add custom fields, switch between free to watch, pay per view and even password protected mode without the need to re-embed the player as the changes get pushed dynamically to your site. ( coming soon )
Additional Features
HD Live and VoD Support
Flash, iOS & Android Support
Secured Streaming
External Uploads & Broadcasts
Style & Functionality Control
White-Label Options
Advanced Access Reports
Realtime Analytics
PPV & Password API Support
See Full List of Features